Intraday Forex Price Action Setup – AUDUSD | Oct. 25th
Hello Traders,
Just wanted to share with you a price action trade I took earlier in the day on the AUDUSD, snagging 51.8pips on the play with a stop of less than 10pips.  It ended up working out well since the top for the day was literally less than a few mins after taking profit.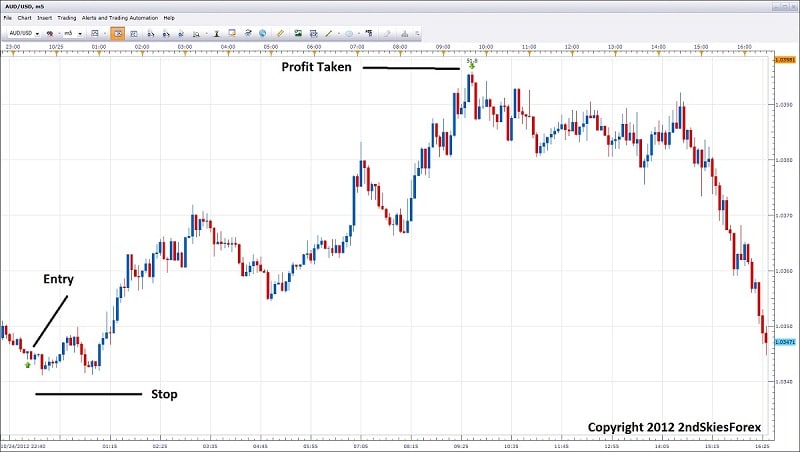 Good setups like these show up daily if you have a trained eye.  I recently read a post whereby their 2-to-1 reward to risk trade finally came into profit after two weeks 😮
Why in the world would you wait two weeks for a trade to hit its profit when it's a simple 2x reward play?  If you are risking 1% of your account, you still only made the same amount of money as someone waiting a handful of hours, or even a day.  Waiting two weeks for the same % gain is ridiculous and a complete waste of your time, especially when you can find that every day.
Sure, patience is a virtue in trading, but wasting time is not!  So don't think you have to wait around for days, or even weeks to find quality 2x reward plays, because you don't.  They happen every day if you learn to spot them.
When you learn how to trade price action, you can spot these great setups daily, making a good profit, then moving on to another.  I hope you found this post useful and welcome your comments.
Kind Regards,
Chris
Want More? My private members get all my trade ideas & market commentary up to 3x per week. Click here to become a member.
Want to Learn Price Action Strategies for Trading Forex?
Sign Up for our Monthly Newsletter and Get our FREE E-Book