Want FREE Trading Charts For Forex, Stocks or any asset class? Check out our top charting provider Trading View.
Check out my latest video How To Day Trade Stocks Using Volume
Want my Price Action Course for FREE? Click here to find out how.
Forex Trade Idea: EURMXN – Corrective Structure At Top, Looking For Breakout (daily chart)
Price Action Context
The EURMXN forex pair has been consolidating in a corrective structure near the top of the trend since late March, so over a month now.
I'm suspecting a breakout is coming soon, more likely to the topside, so am looking for a breakout trade.
Trending Analysis
ST neutral inside the corrective structure, but MT bullish while above 25 on a daily closing basis.
Key Support & Resistance Levels
R: 27.21, 27.90
S: 25.25, 23.90
Stay tuned to our members market commentary for updates.
******
Index Trade Idea: S&P 500 Showing More Signs Of Weakening (daily chart)
Price Action Context
After an impressive low volume bounce since late March from sub 2200 to almost taking out 3000, the S&P 500 has started to show some signs of weakness in the price action.
Of particular note is how the 2nd leg high (unlike the first) did not hold on a pullback and thus broke to end last week.
Still, the S&P 500 needs more technical weakness to call this run over, and breaking below the 20 EMA & dynamic support would further add to this case.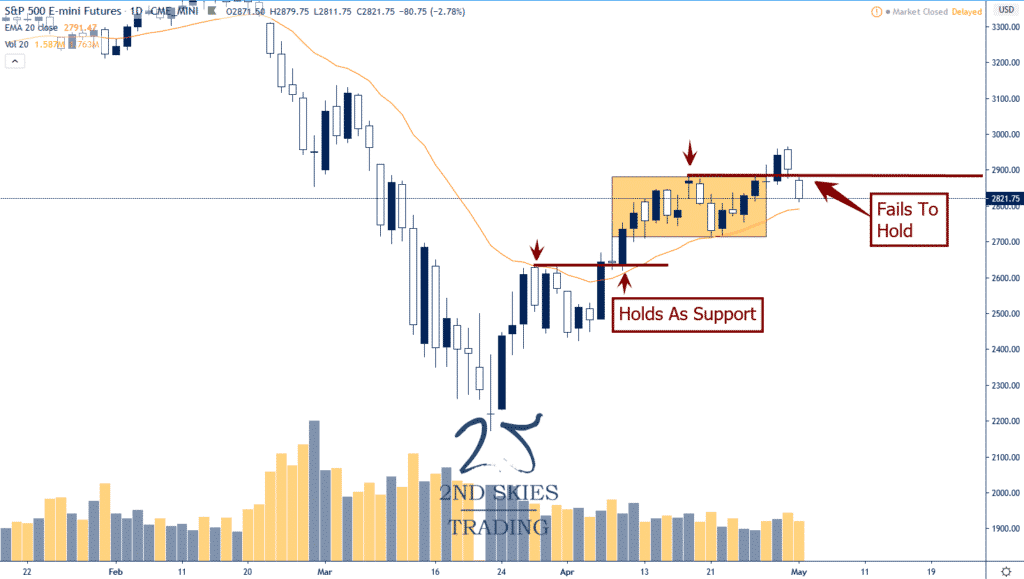 Trending Analysis
ST bearish while below 2890 on a daily closing basis, but MT bullish until daily close below 20 EMA.
Key Support & Resistance Levels
R: 2885, 2960
S: 2788, 2630
******