Forex Trade Signals and Setups Sept. 7th
GBPUSD – Continues to Break Down
Looking at the 4hr chart on the GBPUSD, the pair is continuing its losses and seems to get hammered on any pullback to the 20ema. The Drop from 1.6600 has continued uninterrupted with only a small reprieve but the selling has been constant and consistent.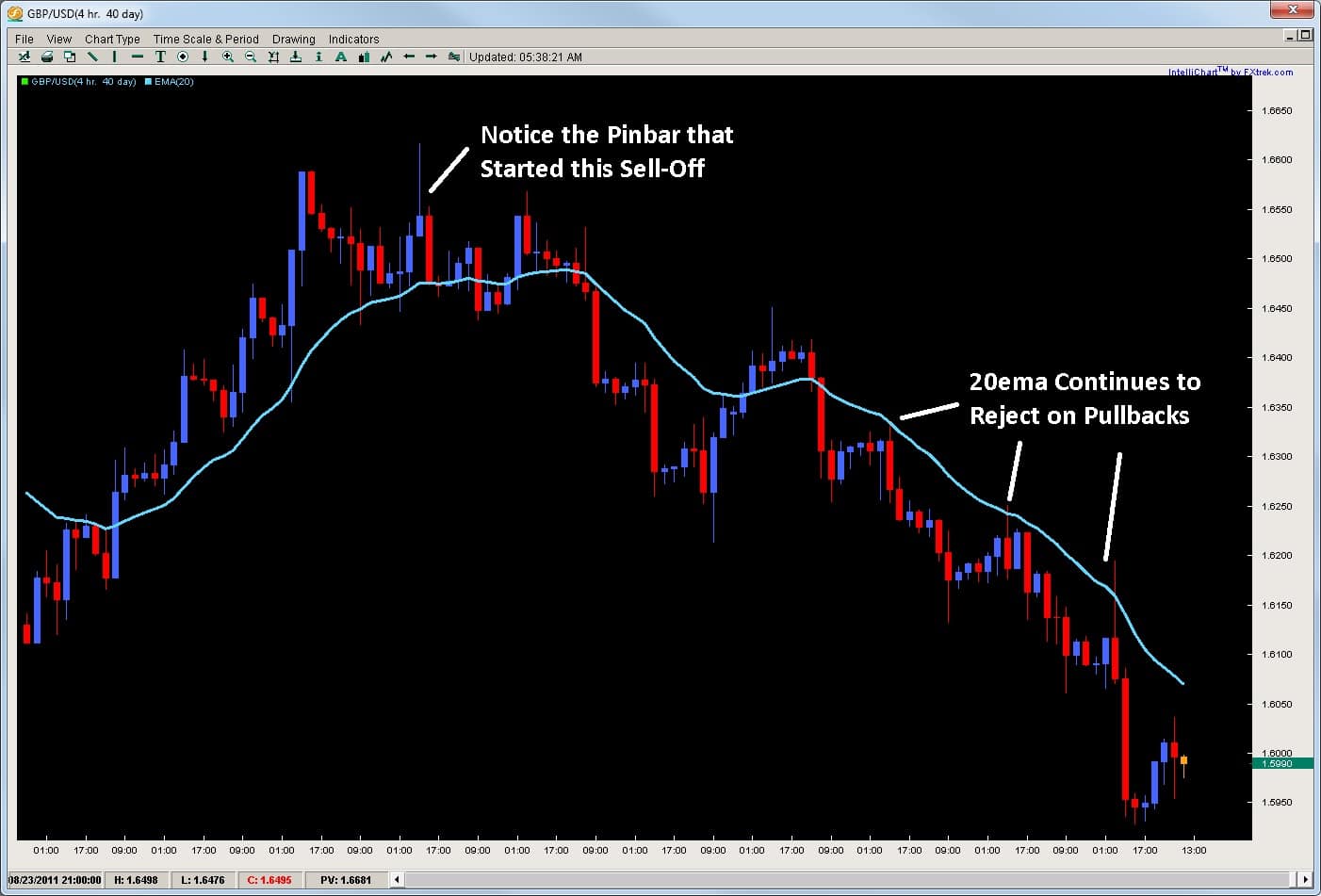 We like taking pullbacks to the 20ema on the 4hr time frame so watch for these setups. One can see the prior pullbacks have all resulted in clear rejections and pinbar formations so look for a similar price action setup to get your entry.
In terms of how far this can go, we are approaching key support on the daily time frame as you can see by the chart below so taking profits around 1.5900 and just above 1.5800 while neutralizing risk is suggested while trailing with the 4hr 20ema.
EURNOK – Breaks Yearly Lows
We normally don't write about this pair as its not as liquid as the others and can gyrate wildly, but every now and then an opportunity arises in this pair and we like to take it for a spin.  Just yesterday when the SNB intervened to stem the appreciation of the Franc (can read our article Chris Capre's post on SNB Intervention), the EURNOK shed almost 1000pips from open to close as funds started to look for alternative currencies to park their funds.  Although we like SNG and RNB as possible alternatives, we also think regionally people inside Europe will look towards the NOK was they have a much more stable economy and are far better options then choosing to park funds in EUR or GBP.
We suspect this will continue and that the prior yearly/all-time lows should hold any pullbacks, thus giving an opportunity to get in with a very nice stop above the 20ema (which is falling fast to the breakout level), and targeting the lows touched today which is 7.5000 offering a fantastic 3:1 Reward to Risk ratio.
Gold – 2nd Failure at Critical Highs
Generally when looking at gold, we always have to note the strategies for being involved in it are different depending upon whether you are a holding of physical gold, an investor or a trader. Our suggestions here are for those who are traders and looking to take advantage of short term fluctuations and trading opportunities.
With that being said, we always prefer looking at the longer term time frames with this shiny metal as we feel it gives the best technical picture.  Taking a look at the chart below on the weekly time frame, you can see price has had a stable relationship to the 20ema and all pullbacks to it have contained the dips to result in good buying opportunities.  Considering how strong this rejection is off the prior all-time highs just north of $1900/oz, we suspect a pullback to the prior low from two weeks ago which was $1700 is on the cards and this could offer a good short term buying/trading opportunity.
One more note.  Looking on the chart below on the weekly time frame, the 20ema Price Spread has spiked to an all time high suggesting short term the move was a little overbought and may need to normalize before significant buying resumes. Keep in mind this is in reference to trading Gold vs USD so paper contracts and is not the same strategy we would employ as a holder of physical gold.  But regardless, watch for the price spread to normalize suggesting a possible return to the weekly 20ema.
For those of you interested in learning about our Price Action and taking your trading to the next level, check out our Price Action Course for further training where you can also join a community of traders and get permanent access to our forum for continual education.  For more information about our services, visit https://2ndskiesforex.com
Want More? My private members get all my trade ideas & market commentary up to 3x per week. Click here to become a member.
Want to Learn Price Action Strategies for Trading Forex?
Sign Up for our Monthly Newsletter and Get our FREE E-Book