Dow Jones Breaks Range, But Intra-day Plays Profit | Nov 20th
Dow Jones – Breaks Out of the Re-Distribution Phase
Yesterday we opined the DJ index was stuck in a 70 point range that intra-day traders could take advantage of, buying off the bottom and selling at the top. Looking at the chart below, you can see the white vertical line when we posted the chart, so you could have easily bought 1x on the bottom taking profit towards the top, and then sold at the top with it hitting the bottom. Both plays could have easily had 15 point stops and 60 point targets for 4R returns, so hopefully you profited from that as savvy price action traders did.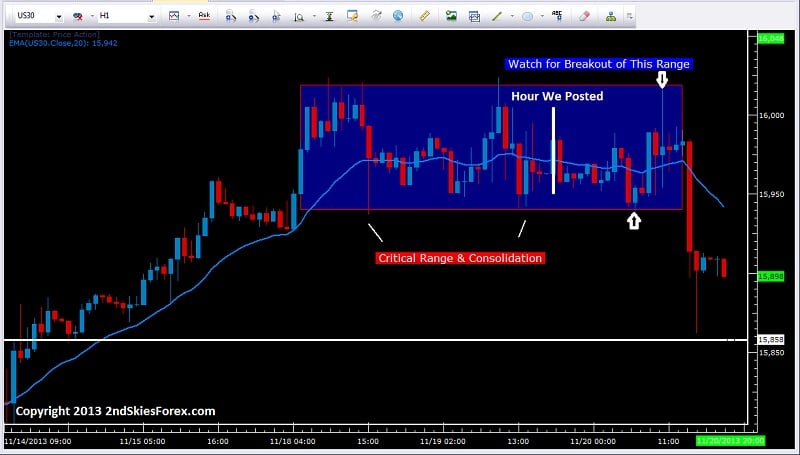 Today after the FOMC comments, heavy selling ensued and the range collapsed. You can see on the 5m chart (2nd chart below) that once the announcement came and the range broke, it bounced right back to the range floor at 15950 which held for 15 mins, then sold off another 75 points, confirming the range floor.
For now, that range floor becomes intra-day resistance, so any pullbacks here should be watched carefully for potential sell signals, but a bearish bias is now in play. Only a 4hr close back inside the range would change this bias. Downside targets are 15865 and 15825.
Make sure to check out our latest article on Protecting Your Mental Capital
Want More? My private members get all my trade ideas & market commentary up to 3x per week. Click here to become a member.
Want to Learn Price Action Strategies for Trading Forex?
Sign Up for our Monthly Newsletter and Get our FREE E-Book