UPDATE: Click here to see my analysis of Nial's Fuller's trades in the AxiTrader Million Dollar Trading Competition – it's more shocking than I originally thought.
A former student of Nial Fuller who is now in my price action course asked me about Nial winning the AxiTrader competition. Of course Nial Fuller talked about how he used "sophisticated money management strategies" and "wasn't day trading", but it turns out he lied – he was day trading, and was using horrible risk management. With all things Nial Fuller, once you dig into the details, a completely different picture emerges from what he says. So make sure to read this article about why Nial Fuller lied about his price action trading in the million dollar trading competition.
Now I'm not going to talk about the fact he and AxiTrader are business partners, or the fact AxiTrader actually allowed their business partners to join vs. pure clients. I'll leave that to y'all to decide on.
But here is my summary of why Nial Fuller & AxiTrader represent everything bad about the trading industry below.
Only Nial Fuller would:
enter a trading competition with the absolute smallest acct possible (5k)
trade less than 10 times (by his own admission) for 6 weeks
completely throw risk and money management out of the window by having a 71.4% drawdown over 3 days!
another 50+% drawdown over another 3 day period!
call his risk and money management system 'sophisticated' (see below)
and then brag about it
And for proof, below is an image which shows you the details Nial forgot to mention about his heavy 71+% and 50+% drawdowns.
Keep in mind, this is the same guy who on Aug 20th (2015) was bullish on the GBPUSD lauding his bullish fakey setup (commentary below).
Now make sure to remember the chart below & attached to this commentary.
Remember, this is a buy signal in line with his bullish views on the market.
Why am mentioning all this?
Because the same pin bar fakey setup Nial Fuller was lauding above, magically a few months later was a trade that "Sucked Traders in and spit them out like used chewing gum" (in his own words – see below).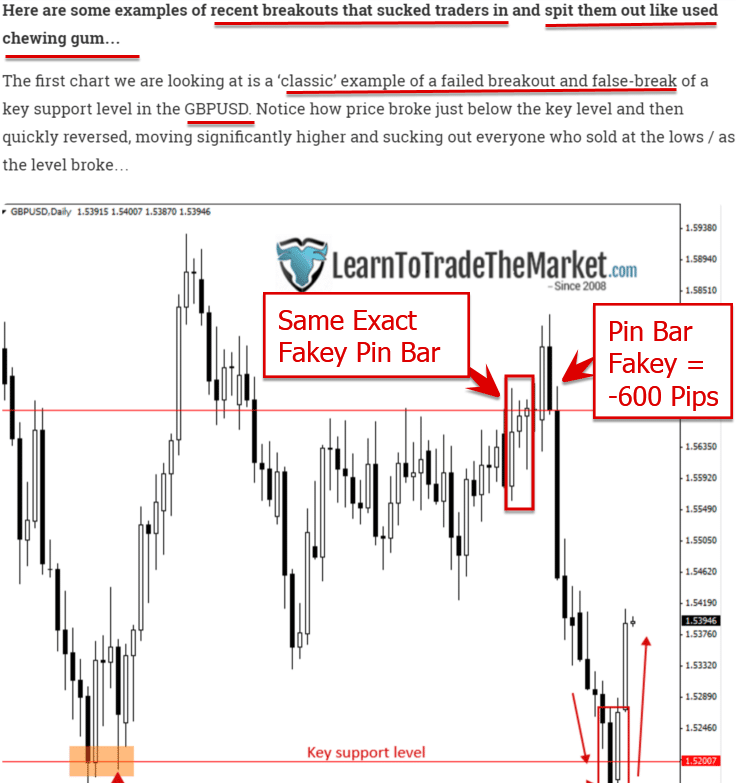 So which is it Nial?
Is this a great fakey pin bar trade that you were bullish on, or a 'classic' false break that 'suckered traders' (like yourself)?
And will you (ahem) Nial Fuller make some 'editorial' adjustments to your above article now that the hypocrisy is fully on display?
Inquiring minds want to know.
EDITORS NOTE (Jun 1 5.18pm EST)
After an editorial review, I realized I made a mistake. While Nial Fuller was bullish after the fakey pin bar combo that failed for 600 pips, the 'false break that suckered traders in' he was referring to was the break of the support level down below. My mistake and I apologize for the error.
BUT….
In a strange twist of irony, even when I'm wrong about Nial, I'm right. How so you say?
A look at this commentary of the false break that 'suckered' traders in ironically reveals the same thing. That he was 'obviously bearish' after the break of the key support level and looking to sell (see below – 3rd line).
To top this off with a cherry – after the market formed the famous false break, he was still bearish and would consider selling (see below as well).
So different trade – same result. He's bearish, but later, he wants to point out any of you that were short were 'suckers'.
Regardless, this should give you a good idea about Nial Fuller.
Along the lines of marketers and all things bad for the industry, only AxiTrader would:
invest $1MM in someone who threw money and risk management out the window
with a 5K acct
over 6 weeks and do < 10 trades
produced a 71.4% drawdown + a 50+% drawdown
and say 'YES, I WANT TO INVEST $1MM IN THAT GUY."
Brilliant!
Now ask yourself the following question:
Who is Nial trying to attract with this promotion?
Is he going after the veteran trader? Is he going after someone who's had a few years of experience and knows what is a reasonable return on risk?
Or is he going after the newbie trader who will only see the % gain and dream of tripling their account? And what kind of clients are AxiTrader going after by promoting results and performances like this?
I'm guessing you can figure out the answer (newbie traders who wouldn't see the difference).
And this is why Nial Fuller and AxiTrader represent everything wrong with the industry. They talk about % gains, but fail to mention the risks it took to get said results.
In fact there was no mention of the risks or the downside. Only upside!  Those don't make for the best marketing materials. Nor do they make the return seem so impressive now do they?
They certainly don't speak of a 'sophisticated' risk management system. But you won't hear that from Nial Fuller or AxiTrader. And that is why they are bad for the industry (IMO).
Nial Fuller & AxiTrader are targeting newbie traders in the hopes they will open up an account playing on the idea 'you too can triple your acct'.
But one last question naturally arises, which is:
When does making less than 10 trades over a 6 week period represent anything about one's skill set or ability?
To put this in perspective:
-would you understand a basketball player's strengths and weaknesses over 10 shots sparsely taken over 6 weeks?
-would you know what kind of golfer someone was by watching them hit the golf ball less than 10 times over 6 weeks?
-would you feel comfortable putting $1MM behind a poker player whom has only played 10 hands over 6 weeks?
Let me know on which planet or universe you think this is a good idea. Yet this is what Nial Fuller & AxiTrader would want you to believe.
I know this article is controversial. I know it may irk some feathers. But I'm willing to bet many will cheer my sentiments/opinions on this as a key topic that has plagued the education industry.
Do you agree with what I've said above or not? If so, why not?
I'll look forward to your comments below.