There are those stocks that won't yield you 100% returns at the end of the year, but are good for their dividends. Such is the stock we have for you today. We're talking about Walmart Inc. (NYSE: WMT), a stock that has proven to be a master at weathering the storm of any market condition or pandemic.
Source: Pixabay
During the pandemic, Walmart stock, just like many other stocks, dipped. But unlike those other stocks, Walmart's dip was minimal. You may not even be able to tell the pandemic-induced dip from other dips on the stock, which is not something other stocks can boast of.
Walmart is not one to boast of exciting revenue growths. Total revenue grew by 4% to $140 billion, and net sales did the same percentage to $139 billion. But if you think those growth rates is meager, wait until you see the operating income. That one staggered by a 0.2% to $5.8 billion. These percentages are growth rates when you compare the most recent Q3 FY '22 to Q3 FY' 21.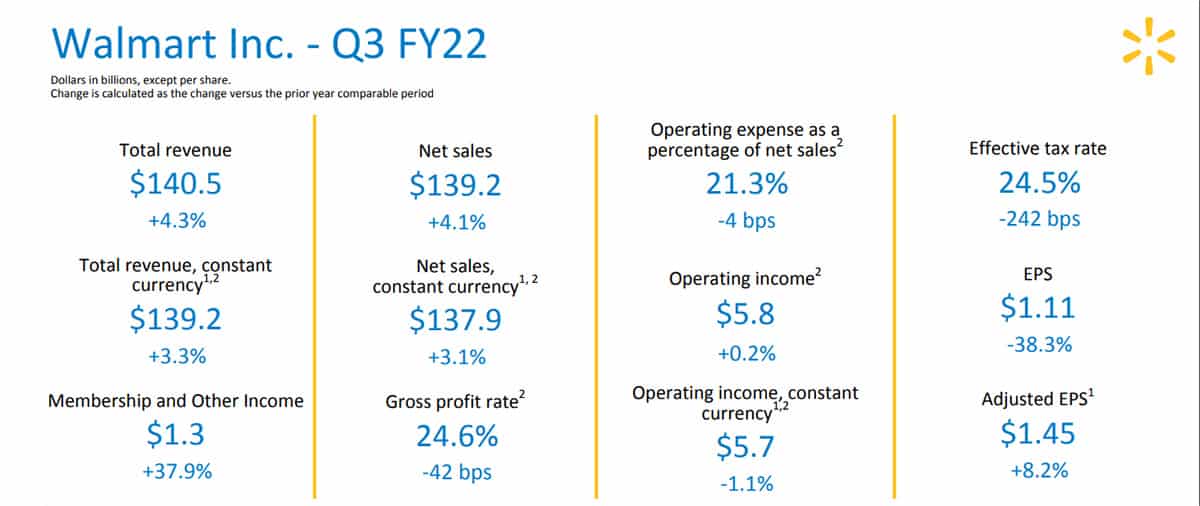 Source: Walmart
One thing that is attractive, however, is it's dividend growth. Walmart has increased its dividend every consecutive year for 48 years. With a payout ratio of 77% and a dividend yield of 1.52%, investors can have some peace of mind with WMT.
A high payout ratio like Walmart's may be a source of concern to investors because there is less money to reinvest into the company. But the company has proven to always have enough left to maintain stability. And this is why dividend investors love Walmart.
Technical Analysis
WMT stock as we speak has no resultant upward or downward movement. It stepped into a range in August 2021. However, investors won't have too much to complain about because the range is coming after the stock crawled to an all-time high by over 150%. A move that was initiated 7 years ago.
The stock currently hovers in between the $133 – $135 support and  $151 – $154 resistance level, and there's no way to tell where it could go from here. The $117 – $119 support level lies beneath the most immediate support level. This may serve as a probable support level should the price break down below its current support level.
And if the opposite were to happen and a breakout of the resistance occurs, new ATHs will be created and holders might have more to celebrate in addition to the consistent dividend payouts.
Long term, though, we hold a bullish sentiment for Walmart stock. And if you need another dividend stock to bolster your income, be sure to read this previous article we wrote.