Not all growth stocks can bring you huge returns. But with patience and proper research, you can find those that are likely to get you those triple percentage digit returns. We believe Unity Software, Inc (NYSE: U) to be such stock.
Source: Jeshoots.com
Unity software is a leading platform for the development of real-time 2D and 3D graphics content. It is very popular among game developers as the tool with which they develop their games. But as you'll soon see, it has grown to be much more than that.
One thing the company has going for it is the loyalty of its customers, especially in the gaming space. The company boasts of over 1.5 million monthly creators. And you could attribute this level of loyalty to the company's market approach. Once game developers build their games on the platform, they can deploy them to various platforms, including Android, iOS, and gaming consoles. Otherwise, game developers would have to write new code for every platform they want to make their games for.
Q2 FY 2021 was good for Unity Software. The company gathered a revenue of  $273.6 million, a 48% increase from what it reported at the same time last year, beating its guidance. The revenue gathered this quarter made it the 11th consecutive time Unity Software would make a minimum of 30% increase.
Despite the company's dominance in the gaming space, Unity software is expanding into other sectors. For instance, Unity launched a platform that allows users to create virtual worlds where self-driving cars are trained. The autonomous cars market alone is estimated to be about $3.2 trillion by 2030, according to GlobeNewswire. When we did the maths, all we saw was an expansive room for growth for Unity Software Inc.
Technical Analysis
The U Stock finds itself in a nicely sloped ascending channel. What this means is that it is climbing healthily up the chart as it approaches its all-time high of $175. It looks to have broken out of the $138.2 – $145.2 resistance level that might have been a challenge to its momentum, and it is currency retesting this level.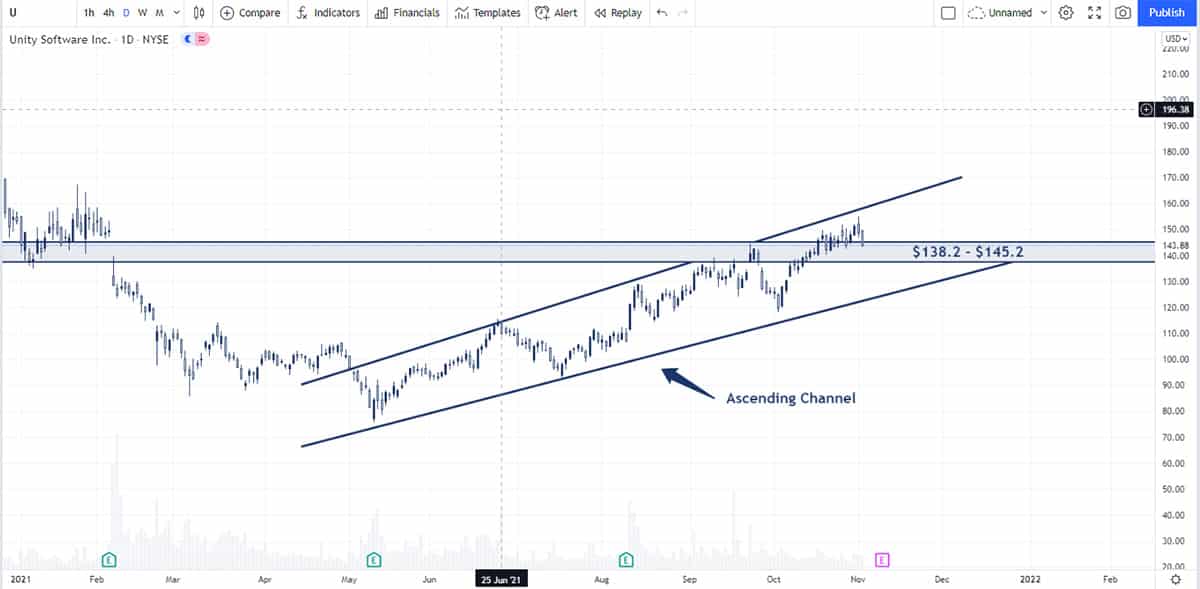 With the solid fundamentals that back the stock up, we have good reasons to be optimistic about this stock. We have a very strong bullish sentiment for the Unity Software stock, and we believe it may 5X your investment in the coming years.
Option Positioning
Unity has a decent amount of options out there with 133K call options and 87K put options. We do have about 30% of these options rolling off this Nov op-ex (19th) which should cause a pullback around the expiry.
Option positioning suggests support around $160 and then around $135.
FULL DISCLOSURE: Chris Capre currently has pending orders in $U. If you'd like to learn more about Chris's trades and positions, you can get access via the Trading Masterclass where he shares his live trades, further investment ideas and daily market analysis.
Or you can get access to Chris Capre's entire trading portfolio by becoming a subscriber to Benji Factory.