EURUSD
Finally breaking stride, the EURUSD has done something it has not been able to do for the last 7 months…have a weekly close below the Tenkan line. This line has held on dips and been quite a play in terms of getting into this trend. With the line being broken, there are two likely scenarios and a third unlikely one.
Scenario 1: The pair goes sideways into a consolidation or channel holding between 1.4615 (20EMA) and 1.5130 (basically the yearly high). This is the least exciting scenario but probably the most likely as heavy positions are probably not coming into the pair anytime soon. The pair simply struggled to make any new ground above 1.5000 and failed every time to have a weekly close above it. Does this mean the bulls are headed for the exit? No – but they are less confident in the short term and will likely not consider adding positions until the pair touches the 20ema.
Scenario 2: The pair starts a sell off as bulls take profits for the year and exit out of the pair. The failure to close on a weekly basis above 1.51 caused them to lose confidence short term and look for a lower/cheaper entry. If this plays out, the pair should move within 1-2 weeks towards the 20ema. However with liquidity drying up by the end of next week, unless the pair starts getting aggressive today or tomorrow, this scenario fades in likelihood as santa comes closer to visiting us through our chimneys.
Scenario 3: The least likely is the pair gets really bullish and makes new highs. We feel this is rather unlikely so if you are thinking of throwing on massive longs, caution is advised as we do not feel this is the time, environment or overall location to be putting on heavy longs. Best to wait till new year with fresh eyes and hopefully a lower price.


GBPUSD
Failing once again to make a run for the Kumo Flat top and break it, the pair has now posted 3 straight weekly closes and is threatening an important base in price at the 6300 region along with the Kijun, Tenkan and 20ema. If we were to get a weekly close below this, we feel the pair would make a strong move towards 1.5700 which was the October low and launching pad for a 1300pip run. Keep in mind this was a perfect bounce off the Kijun which is not as stable now so any breakdowns this week likely lead to strong price moves once clear of 1.6200. It is becoming more likely GBPUSD will remain between 1.5700 and 1.6827 which is the flat Kumo top for the rest of the year so do not expect wild upside thrusts to end the year.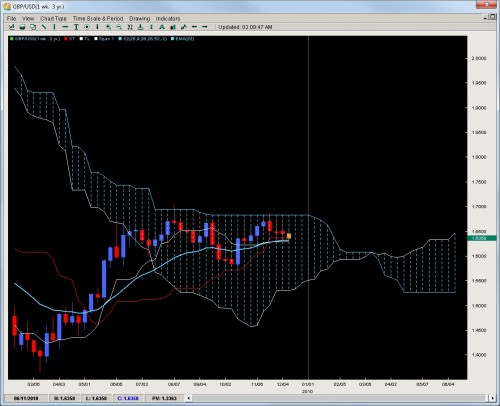 AUDUSD
Virtually but a cigar short of closing below the weekly Tenkan, the pair is threatening a break below the white line which has held since July (only below for 1 week) and essentially since March. A weekly close below this will likely target the 20ema which is down at 8800 where the longer term bulls will be tested and tempted to add positions. Keep in mind a break of this line would likely start a drop towards 8500 and perhaps down to 8200 where there is a good price base and likely where the kumo would be in such a venture. Overall, we feel the pair is showing signs of being over-valued and may need to unwind a bit before another push up towards parity is attempted but its unlikely bulls have the gusto right now for an attack on the yearly highs or 9500 so we expect at best a sideways consolidation between 9000 and 9400 but would not be surprised if a strong sell-off occurs as there is not much to prop the pair up except for a small 3 week price base at 9000.


USDCAD
The drifter of the pairs, price action is getting less enticing every week as we are seeing multiple inside bars with little breakouts and a lot of wicks on the weekly charts communicating a lot of rejections and un-clarity about where price should be for this pair. Its forming a wedge and a rather small one so these are generally environments to be avoided. There is a small base which we mentioned last week in the 1.04's and we mentioned if you wanted to get long, that was the place to do it. It definitely yielded some profit bouncing about 100+pips off that figure but each week such a move becomes more dangerous and less recommended. The only other base to go long is at 1.0200 (yearly low). Beyond this, we do not feel any other longs will enter until a break of the 20ema which has not happened since April.


NZDUSD
The underperformer of the trend pairs against the greenback, the pair has now formed a short term range of price action between the Tenkan and 20ema with two rejections at the Tenkan and one at the 20ema. The good thing about this price action is it gives us clear plays on both sides of the market and out of all the pairs, we feel this is one of the better ones to trade with the established rejections. The lines in the sand are more clear here than any of the others so plays (light ones) could be made on both sides. With all the lines starting to go flat, the chances of this range holding (at least to the upside) are solid. A downside break is the more likely scenario but the jury is still out on that one. Any aggressive selling today or tomorrow would bolster the downside argument. Ultimately, we feel any strong dips will likely lead to price basing around 6500 which we feel is a good value area to establish longs for another run up to 7500.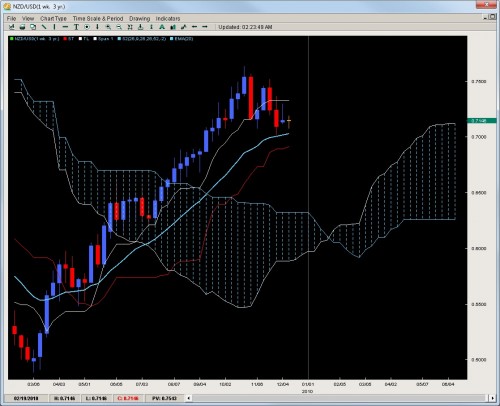 Chris Capre specializes in using Ichimoku, Momentum, Bollinger Band, Pivot and Price Action models to trade the markets. He is considered to be at the cutting edge of Ichimoku analysis along with building trading systems and Risk Reduction in trading applications. For more information about his services or his company, visit https://2ndskiesforex.com