Weekly Price Action Setups & Key Levels | Oct 8-13
My Current Active Open Trades: EURCHF, USDJPY, EURRUB, EURNZD, CHFJPY, FTS, TRP, XHB, REMX, FXo EURJPY, FXo EURPLN
NZDUSD – Key SR Broken, Looking To Sell On Rallies (4h chart)
The likely scenario for the NZDUSD we mentioned in our last members commentary manifested and the pair continued to sell off towards 0.7150 and almost 0.7050 after printing a MT pre-breakout structure followed by a breakout at the first mentioned support.
Pullbacks into 0.7130-0.7150 should provide MT bears with good potential shorting opportunities IMO.
To the downside, next solid supports are coming in at 0.7050 and 0.6870.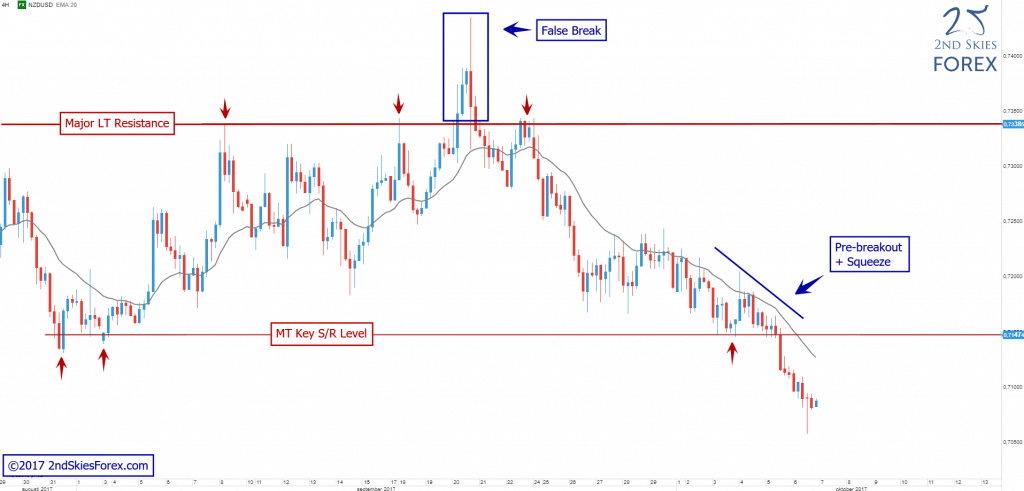 Google (Alphabet Inc.) – Large Corrective Structure Held, Closing In On ATH (Daily chart)
We mentioned this large corrective structure in our members market commentary mid-August and that the bottom of this structure likely was a good location to buy this stock in line with the HTF bull trend.
Congratulations to those that managed to get in before price took off north.
Next resistance in line is the all-time-high around 1008. If bulls manage to clear this resistance, the stock will be in uncharted territory but prior price action suggest that 1050 and 1100 will be likely areas of interest to watch out for.
Want More? My private members get all my trade ideas & market commentary up to 3x per week. Click here to become a member.
Want to Learn Price Action Strategies for Trading Forex?
Sign Up for our Monthly Newsletter and Get our FREE E-Book