Weekly Price Action Setups & Key Levels | Feb 19-24
My Current Active Open Trades: USDJPY, EURUSD, AUDUSD, AUDNZD, XAUTHB
Presidents Day Tomorrow (US) – US Markets Will Be Closed
USDRUB – Impulsive Bounce, Approaching Key Resistance Zone (4hr charts)
After continuing it's impulsive and corrective price action structures, the USDRUB has formed an impulsive bounce after the false break of the 57 handle. Currently the pair is sitting around 58.50 which is just below the key resistance zone between 58.80-59.30.
If this zone holds, then we should see a potential 2nd attack on the yearly lows around 57. However if this zone folds, then we'll likely have a false break scenario whereby the resistance zone will attempt to become support and create a move towards 60.45 which is where the last major resistance zone was.
​USDJPY – Sitting Above Key Support Zone (4hr chart)
After stabilizing around the 111.50 level and double tapping there, the USDJPY formed an impulsive move upwards towards the key resistance around 115.66. However the pair stopped just shy of the 115 figure and has now round-tripped back down towards the key resistance zone between 112.50-111.50.
I'm expecting some bulls to have orders parked here and attempt to defend the zone this week. If the zone holds, then we should see another attempt back towards the 115 figure.
However if the zone holds, then we're technically in a MT bearish environment and I'll be looking to sell.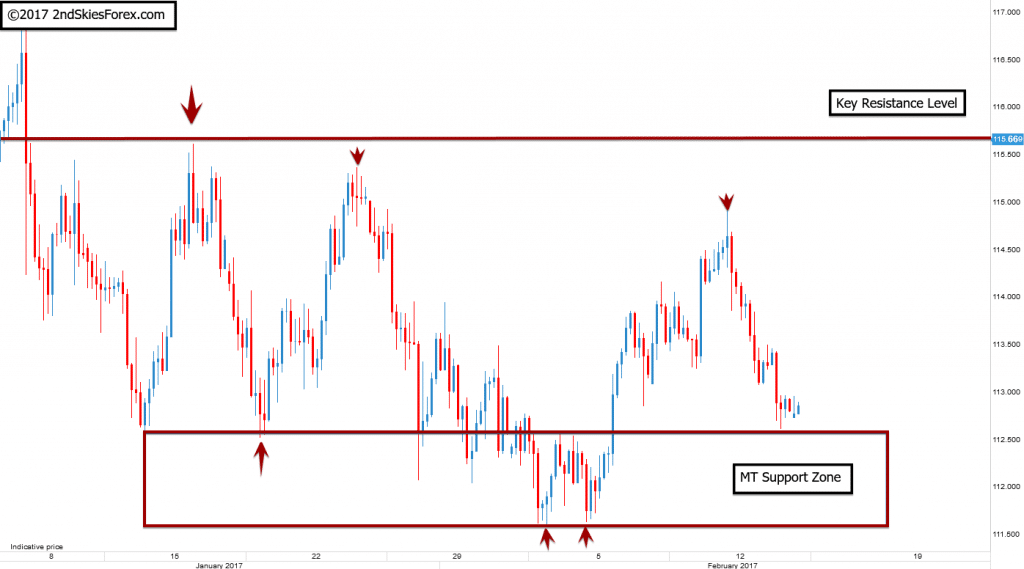 Want More? My private members get all my trade ideas & market commentary up to 3x per week. Click here to become a member.
Want to Learn Price Action Strategies for Trading Forex?
Sign Up for our Monthly Newsletter and Get our FREE E-Book