Weekly Price Action & Technical Analysis Outlook | Sept 8-13
GBPUSD – Knocking on Key Resistance Zone
Although still in a medium term range, the pound is pushing up against a key resistance zone with two rejections off 1.5700 in the last few weeks and 3x since June. Although the pair has failed to close above 1.5720 since June, the pair has been building HLs (higher lows) with the last one showing a pin bar rejection off 1.5450.  Bears can look for sell signals in this resistance zone with tight stops above, while bulls will need to wait towards 1.5450 and the pin bar lows before getting long. Another option for bulls is to wait for a daily close above the resistance zone before getting long.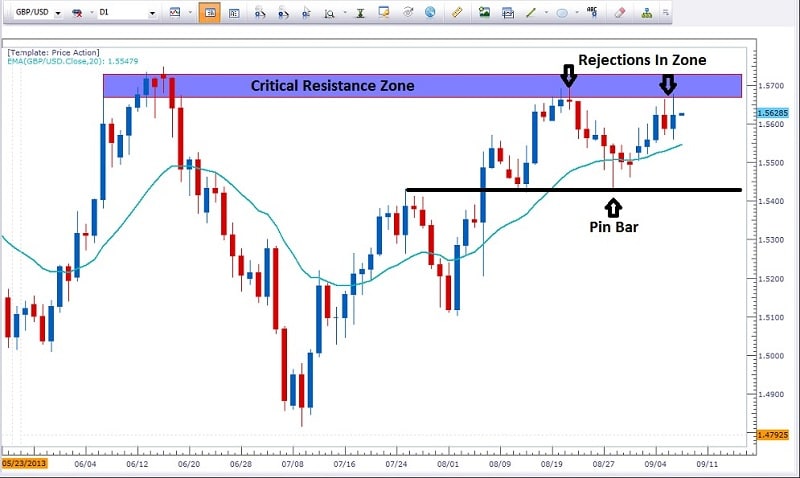 EURJPY – Still Building Upside Case
The EURJPY has rejected thoroughly off the resistance zone we were talking about last week, but the formation of another higher low and the upward wedge pattern is suggesting the bulls are happy buying dips. Medium term, this suggests the pair is more likely to breakout to the upside. Generally with wedges like this, being that we are 70+% into the wedge, a breakout seems likely this week as they generally do not go the full terminus. Bears can look for intra-day shorts off the resistance zone just above 132, while bulls can look to take longs on pullbacks off the wedge bottom around 130.
Dow Jones Index – 15K Big Figure Line In the Sand
After the false break of 15600, the Dow Jones Index has been under pressure, dropping almost 900 points over the last month. For the last two weeks however, it has been stuck in a corrective consolidation price action after the large sell-off, currently stuck between 14800 and 15000. The bearish trend is still in play, so we favor shoring at 15K targeting 14800, and possibly a much larger move lower towards 14500 and perhaps 14K. We ourselves are currently short at 15K which you can see in the second chart below showing our entry on the trade.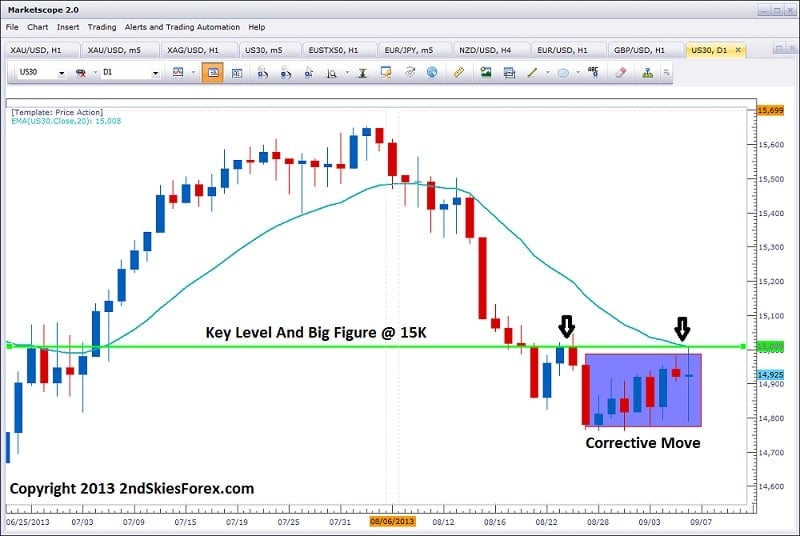 Our Live Short Trade at 15K. Can You Spot The Signal?

Check out our latest article on Success in Forex Trading: What It Requires
Want More? My private members get all my trade ideas & market commentary up to 3x per week. Click here to become a member.
Want to Learn Price Action Strategies for Trading Forex?
Sign Up for our Monthly Newsletter and Get our FREE E-Book