Weekly Price Action Analysis & Outlook | Jan 19th-24th
EURUSD – Continues to Break Down
In our 2014 currency market outlook, we favored the bearish side based on the various price action clues and the pair has sold off 8 out of 13 days losing almost 300 pips in the process. The pair is now below a key level at 1.3650 and we'll maintain our bearish bias until a daily close above 1.3815. I'll look to sell in the resistance zone between 1.3650-3700 on a corrective pullback. Downside targets are 1.3400 and 1.3330.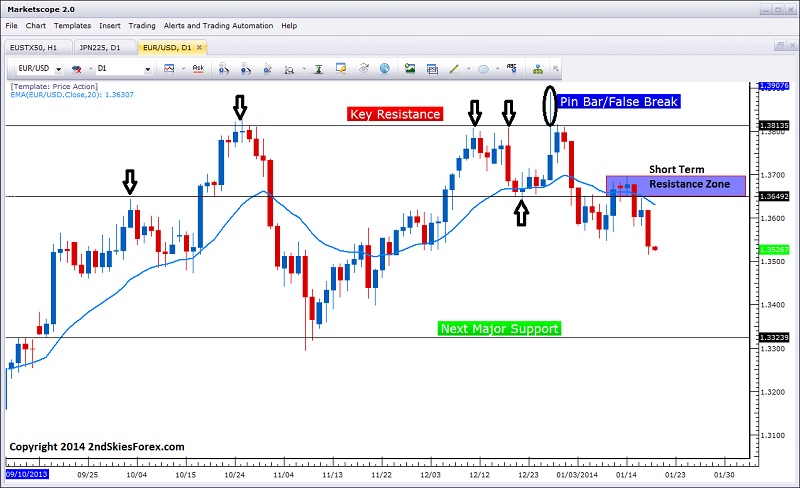 Nikkei 225 – Still Bearish Below 16400
After forming two bearish engulfing bars, the pair has formed an inverted pin bar on friday, which is a failed attempt to rally, but a rally nonetheless. The bulls could be basing to form another attack on the yearly highs. Key resistance is above with 15840-15933. Bears can look for intra-day sell signals here with tight stops. If this fails, you can look to take another short at 16300 targeting 15930. Downside targets on the lower sell at 15840-15933 would be 15500 and 15050.
EUSTX 50 – Corrective Pullback = Still Bullish
As the European indices are holding up quite well, we still like the bullish side for the Euro Stoxx 50. The pullback in the red box above is mostly corrective with two wicks to the downside suggesting bulls are willing to buy on dips. I'll look to buy on a corrective pullback to 3128/30 which was the role reversal level being resistance turned support. Upside targets are 3145 and 3175.
Make sure to check out our Live Price Action Trades of the Week.
Want More? My private members get all my trade ideas & market commentary up to 3x per week. Click here to become a member.
Want to Learn Price Action Strategies for Trading Forex?
Sign Up for our Monthly Newsletter and Get our FREE E-Book