Weekly Forex Price Action Outlook July 8th – 13th
EURUSD
After bouncing from the yearly low gaining ground for the last 3 of 4 weeks, the EURUSD got hammered last week losing all the gains and selling off to test the yearly lows again.  It should be noticed how one week of impulsive selling took out four weeks of corrective gains, telling us the sellers are still in control as the market is more apropos to punish the Euro (rightfully so considering the situation in the EZ).  Keep in mind, this is on the heels of a Spanish bailout two weeks ago, and a ESM funding agreement from Germany, yet sellers dominate.
With that being said, either this last sell-off is exhaustive in nature, or the market is looking to push for more downside.  I think the latter and am looking for further deterioration in the pair.  At this point, i'm either going to wait to see if the market will remain weak at these levels, and then look to sell near the former yearly lows on a breakout pullback to the 1.2300 level.  Option 2 will be to sell rallies up to the 1.2650 area targeting 1.2300 and then a further break.  If bulls want to take a play, look for a price action trigger of the current levels or just above 1.2300.
USDCHF
On the other side of the coin is the USDCHF which is actually giving a slightly better signal, not only having gained for 4 of the last 5 days, but also taking out the prior yearly high at .9772 and opening this week pushing above it from the open.  Short term, it needs to clear .9800, but should it do so, I'm expecting further upside so longs are possible just north of this figure.  Corrective pullbacks to the .9675-60 levels are another option for intraday longs.  Bears will want to see a price action reversal trigger here and failure above before selling.
Gold
The precious metal continues to be hampered on the upside from the weekly 20ema which continues to act as dynamic resistance.  This and the $1625-1640 region continues to hold the upside, so bulls will need to clear this before adding new technical buyers.  Although there has been no weekly close below $1571, buying at this level doesn't work out from a risk perspective since the upside is still capped.
So I prefer buying in the $1550-1530 region with stops below $1525, targeting $1600, $1625 and a possible break above the 20ema for further continuation.  Bears can meanwhile short off the 20ema with tight stops (being no breach above it since April) targeting $1571 and $1550.  Keep in mind last week formed a pin bar setup so sellers can look for weakness heading into the dynamic resistance.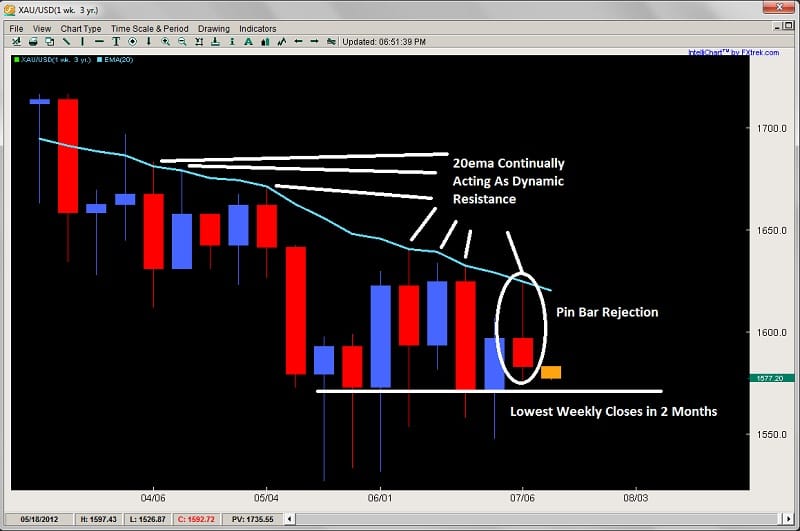 Oil
Although this commodity ended the week where it started, I am suspecting a medium term bottom is in place around the $78 base from last week.  Although these recent gains were bolstered by rhetoric out of Iran and them blockading a key strait, I am looking for a higher low above the recent swing lows around $78, perhaps around $80.60/75 region.
If price pulls back here and shows weakness or does so in a corrective fashion, I will look to get long on these levels barring a price action trigger around here presents itself so bulls have a nice pullback level to take as the commodity still has yet to form a higher low to suggest further bottoming.  Bears can look to sell above the recent pin bar rejection just shy of $89 which happens to be a nice role reversal level and ideal for possible selling here.
For more info on how to trade price action, get access to the traders forum, lifetime membership & a lot more, make sure to visit my price action course page here.
Want More? My private members get all my trade ideas & market commentary up to 3x per week. Click here to become a member.
Want to Learn Price Action Strategies for Trading Forex?
Sign Up for our Monthly Newsletter and Get our FREE E-Book