Price Action – IBEX 35 Strong Breakout Bar, More Upside? Aug 16th
IBEX 35 (Spanish Bolsa/Stock Exchange)
Wanted to mix things up a bit with a different instrument today – this time the Spanish Bolsa or Ibex 35 which has broken a key resistance and double top at 7224 which I talked about on my twitter and facebook accounts ahead of time.
What's interesting to note in the price action and chart below is the strong close for today, along with the tiny wick at the bottom – communicating buying straight from the open (conviction heading into resistance). This along with the weak 3 candle pullback from the last touch at the 7224 resistance, suggested the sellers could not muster a strong response, nor bring in other traders to their cause.
Now that the market has clearly broken through the key resistance level with a strong breakout bar, I suspect any pullbacks into this level would hold (barring any really bad news out of Spain which could happen), but if the pullback is corrective and weak in nature, then I suspect higher prices, so watch for a breakout pullback setup at the aforementioned resistance turned support.  I never thought I'd want to be long the Bolsa, but its a good lesson for traders to not let bias interfere with missing a good trading opportunity, so am enjoying the friction.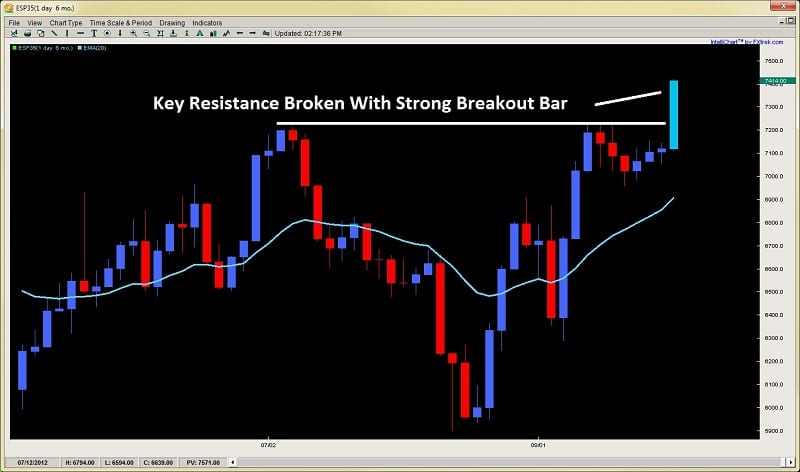 For those wanting to learn to trade price action, get access to the traders forum, quantitative data on price action, lifetime membership & more, visit my forex price action course page.
Global Market Commentary:
Frau Merkel tried a different mantra than her usual 'Nein' today, with supportive remarks about doing what is necessary to save the Euro.  This gave investors a boost of confidence the German taxpayers main funding backstop for Europe will save the sinking ships called Spain, Greece and Italy.  That combined with global traders still pricing in QE3, or some other 2, 3 or 4 letter CB easing policy, helped buoy global markets.
Housing Starts and the Philly Fed both came in lower than expectations which in turn put pressure on the USD.
Gold gained $9.70 on the day to close at $1616 while crude is pressing up against key resistance at $95.21.
Upcoming Economic Announcements:
| | | |
| --- | --- | --- |
| EUR German Producer Prices (YoY) | 06.00GMT | 02.00EST |
| CAD Bank Canada Consumer Price Index Core (YoY) | 12.30GMT | 08.30EST |
| USD U. of Michigan Confidence (AUG P) | 13.55GMT | 09.55EST |
| USD Leading Indicators | 14.00GMT | 10.00EST |
Want More? My private members get all my trade ideas & market commentary up to 3x per week. Click here to become a member.
Want to Learn Price Action Strategies for Trading Forex?
Sign Up for our Monthly Newsletter and Get our FREE E-Book