Live Price Action Trades of the Week | Aug 16th
Since we went bonanza last week covering over two weeks of trades, I thought I would slim it down this week to 4. And while other price action 'authorities' and 'masters' are 'discussing' setups in their members commentary (are they actually trading them? where are the trades as we never see them?), we are showing our trades that we took – directly from the brokers chart.
Although I wanted to make my personal top trade take 1st place this week, I thought I would give it to another member who impressively spotted a nice 4R setup using…the 1M chart!  Again – debunking the myth you cannot find good trades on intra-day time frames as this one was some stellar trading.
#1 +82 Pips 2R Trade AUDUSD 4hr Chart

Can you spot the setup in this chart? Good with trend play here grabbing a quick +82 pips in about a day.
Taking advantage of the Aussie strength meant there was a good setup shorting EURAUD for a 2R trade.
#3 +2554 Pips Gold Breakout Trade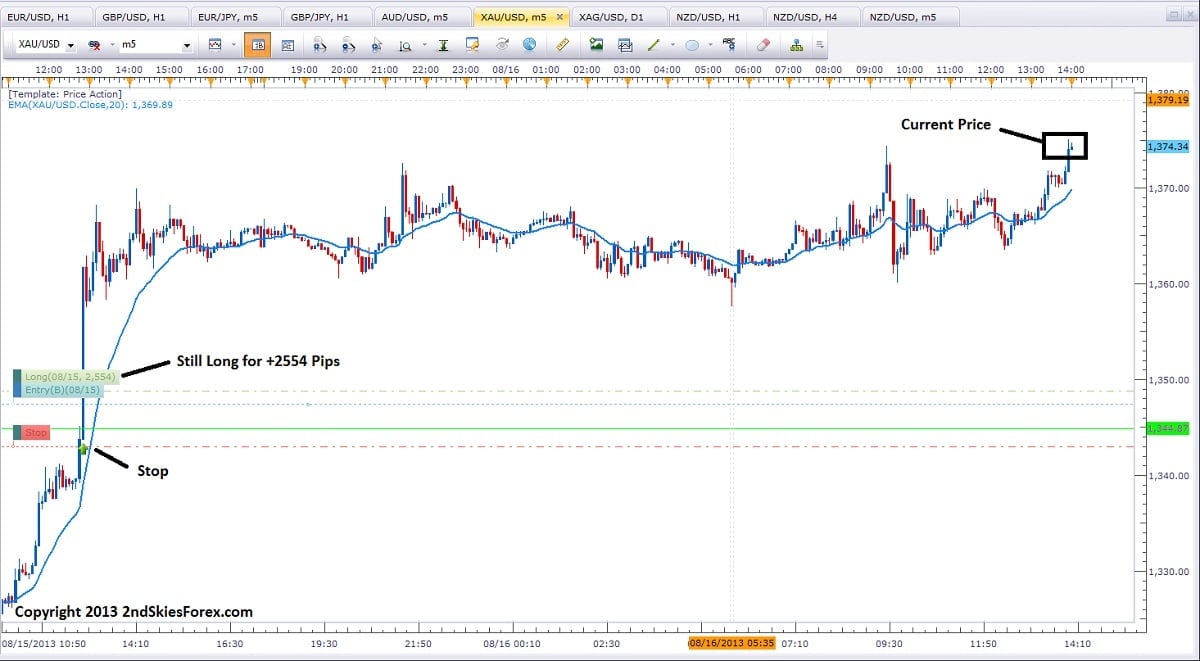 This is the continuation of the trade I shared in my market commentary yesterday. After the Asian close, it was up about +1700 pips which I decided to hold, now up +2554 pips. Keep in mind, the stop was less than 350 pips, so an almost 8R trade at this point. If we can clear the 1375 highs for the day, then 1390 will be up next, which is another +1500 pips further. Hopefully we'll get there by today or Monday. Long term am expecting a run up to 1420 and 1484.
#4 +49 pts and a 4R trade on Crude Oil 1M Chart

This was an excellent breakout trade using our breakout qualifiers from the price action course. Keep in mind, if you were waiting for a pullback or retracement to value, you would have never gotten this trade and completely missed the setup. Sometimes trading the pullback is prudent, sometimes you have to take the breakout. Tis important to know the difference on how to trade with the trend.
When you learn to read price action and understand it, you can know the difference instead of just applying cookie-cutter patterns that fail in helping you to understand and trade price action.
Remember the skill of trading price action is not confined to time frames, instruments or environments. When you learn the skill, you will find setups on any time frame as they will just pop out of the charts at you.
Want More? My private members get all my trade ideas & market commentary up to 3x per week. Click here to become a member.
Want to Learn Price Action Strategies for Trading Forex?
Sign Up for our Monthly Newsletter and Get our FREE E-Book