Forex Price Action Setups (NY Close) May 9th
Euro Drops for 8th Day in A Row – Dow 6th
The last time the Euro dropped for 8 days in a row was back in 2008 when we had full tilt in the global economic markets.  In fact, in the last 8 years, we've only had an 8 day drop 2x, two 7 day drops and one 9 day drop so this is quite extreme.  Although the sell-off back in 2008 was much more severe (since the markets were less manipulated then),  the bottom line is this tells you the markets and global investors have no confidence in the currency and are likely fleeing whatever remaining capital they have.
Why?
Because the hinges are starting to fall off as we have been writing about for months.  As Nigel Farage (UKIP) at the European Parliament today, "The EU Titanic has not hit the iceberg".  We actually felt like that weeks ago, but now its starting to accelerate.
Why?
Well, today, the Bank of Spain formally Nationalized Bankia (remember that bank formed to consolidate the operations of the regional banks?) with total assets in €328.B.  They were the 3rd largest lender in Spain but the largest holder of real estate assets (toxic).  The funny thing is, the Bank of Spain tried to pawn it off as solvent.  "Nothing to see here, move along….these are not the droids you are looking for."
Meanwhile in the EU, the Eurozone will hold back €1B in funds which was supposed to go to Greece over worries the gov't would not go along with the austerity plan. This will all continue to put fear the EU will breakup and minimally Greece will exit failing to keep the terms of the plan which means massive losses to both European and US banks.  Just remember, Greece is really the cover up for the bigger problem, Spain and Italy which are far larger.
On the other side of the pond,  the DOW has had its longest losing streak in 10mos, back in July last year. What happened the last time the DOW lost 6 days in a row? It dropped 2500 pts in less than 3 weeks so we could be seeing the start of a major implosion here.   Economic announcements are heavy tomorrow with the BOE rate decision, along with a few other reports so tomorrow should be a dousy.
EURUSD –  First Daily Close Below 1.3000 in 3+ mos
For the first time since Jan., the Euro had a daily close below the 1.3000 barrier.  Keep in mind this is with a friendly sovereign buyer called the Chinese who have been propping this pair up (likely along with the FED).  This will activate a lot of technical models and trigger some stops so we only see bearish pressure short and medium term to continue.  We like either a breakout pullback setup at the key aforementioned level, or a retest of the dynamic resistance and 20ema around 1.3100 now so both options work for us.
It may be a bit oversold, but we cannot see buyers being excited about being long this pair, save some magic bullet which we do not think exists, so scratch that, we are sellers at this point looking to play either option but watch for price action triggers at either level.  We think medium term the pair is now headed towards the 2012 lows just above 1.2600.
GBPUSD – Pin Bars off Dynamic Support
Two for one deal today on the trade setups as the GBPUSD has sold off 7 of the last 8 days to land itself on the 20ema.  It did so in handsome fashion forming a pin bar setup off the dynamic support and daily 20ema which also happens to be a key support level and swing high from April this year.  Watch for price action triggers on the 4hr and 1hr charts for this to possibly offer a buy signal back towards 1.6200 and possibly 1.6275.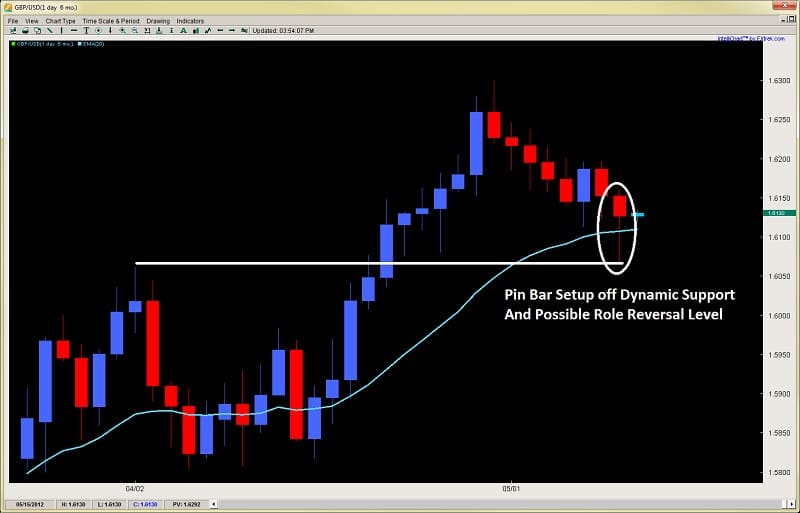 For those wanting to learn rule based price action systems, access to the traders forum, lifetime membership & more, check out my Forex Price Action Course.
Upcoming Economic Announcements:
| | | |
| --- | --- | --- |
| CNY Trade Balance (USD) | 00.00GMT | 20.00EST |
| AUD Unemployment Rate | 01.30GMT | 21.30EST |
| EUR ECB Publishes May Monthly Report | 08.00GMT | 04.00EST |
| GBP Industrial Production (YoY) | 08.30GMT | 04.30EST |
| GBP Bank of England Rate Decision | 11.00GMT | 07.00EST |
| USD Trade Balance | 12.30GMT | 08.30EST |
| GBP NIESR Gross Domestic Product Estimate | 14.00GMT | 10.00EST |
Make sure to check out my latest article called Price Action Forex Trading – Exhaustion & Climax Reversal Bars 
Want More? My private members get all my trade ideas & market commentary up to 3x per week. Click here to become a member.
Want to Learn Price Action Strategies for Trading Forex?
Sign Up for our Monthly Newsletter and Get our FREE E-Book