Forex Price Action Setups (NY Close) Apr. 24th
Corporate Earnings and Bond Sales Ease Global Investors…For Now
US housing data on new home sales and the Case-Schiller Home Price Index came in solidly across the board giving a short term boost to equities.  Keep in mind, this was also while the new home sales for March were -7.1%.  But grasping for any positive data as the markets tend to do despite the reality, the home price gains for Feb. were the first time in 10mos price has risen helping sentiment.
Additionally, on the other side of the pond,  bond sales in Europe helped to allay (or create amnesia) for the Dutch/Spanish/Italian trifecta which is plaguing Europe which really seems to be getting worse and worse with nothing really dealing with the issues.
Regardless, the Dow ended up 74pts or .58% while the S&P gained 5pts or .37%.  Nasdaq was the big loser with Apple losing 2% and shedding over 12.5% in the last 11 days, the largest two week drop since January 2009.  What is most interesting to note about Apple is volume has been quite high on the latest selling which could be suggestive the lot of hedge funds who piled into this darling may be looking for the exit.  What happens when all the hedge fund money either leaves Apple, or it sells off and kills all the hedge funds profits?  Where does the money go then and what props up the stock market when the gem has been tarnished?
Don't forget the FOMC is tomorrow which should be interesting as investors will be looking for any hint the FED is considering any more easing or QE3.
AUDJPY – Bullish Pin Bar and Higher Lows
After selling off aggressively after price rejected off the dynamic resistance and daily 20ema, the AUDJPY has formed a bullish pin bar setup off the round number of 83.00 and forming a higher low.  Although we are tentative as the pair needs to clear the 20ema which it has not done since over a month ago, this is either price forming a bear flag which will eventually lead to more downside, or an attempt to build a short term bottom with 82.50 being the base.  Watch for intraday corrective moves into the pin bar for a possible long, targeting 84.30 and 85.00 should this price action pin bar setup play out.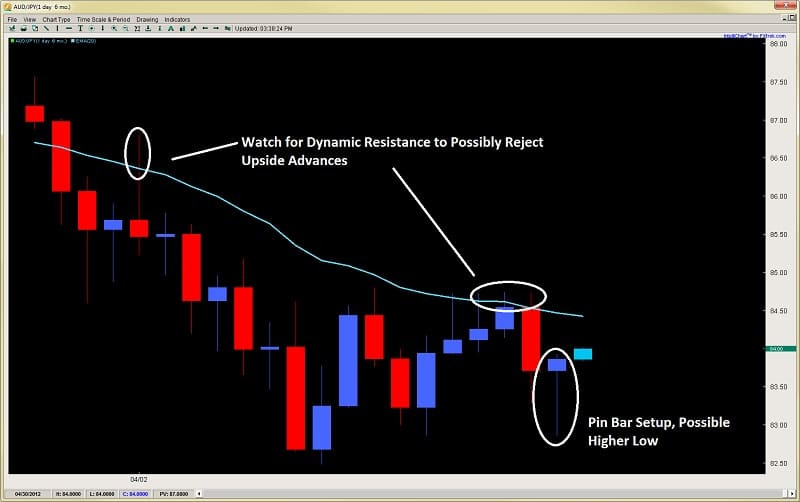 For those wanting to learn rule based price action systems, access to the traders forum, lifetime membership & more, check out my Forex Price Action Course.
Upcoming Economic Announcements:
| | | |
| --- | --- | --- |
| GBP Gross Domestic Product (YoY) | 08.30GMt | 04.30EST |
| USD Durable Goods Orders | 12.30GMT | 08.30EST |
| USD Federal Open Market Committee Rate Decision | 16.30GMT | 12.30EST |
| NZD Reserve Bank of New Zealand Rate Decision | 21.00GMT | 17.00EST |
| GBP Nationwide Consumer Confidence | 23.01GMT | 19.07EST |
Want More? My private members get all my trade ideas & market commentary up to 3x per week. Click here to become a member.
Want to Learn Price Action Strategies for Trading Forex?
Sign Up for our Monthly Newsletter and Get our FREE E-Book