Forex Price Action Setups (NY Close) Apr. 12th
Oil, Stocks and Precious Metals Surge Pre-China GDP Numbers
The EURO rose steadily after the stronger then expected Italian bond auction assuaged investors of the EZ debt crisis.  We think this is absolute rubbish considering it was the 3yr yields that performed modestly on sales.  Keep in mind, they did so on the increased or rising yields which is investors communicating they are worried about short term debt issues.  10yr yields sold miserably so we are not buying it .
Stocks on the other hand benefited from the US trade deficit reduction which as we reported earlier, is more likely from Chinese New Year reducing foreign exports.  Regardless, investors hang on the whim of any hope and this provided relief which sent stocks soaring globally with pretty much every index between Europe and the US gaining 1% on the day or more.  The DOW ended up 181pts or 1.41% and the S&P gained 18.86pts or 1.38%.
The big gainers on the day were Gold & Silver which benefited from new QE rumors, sending the duo up $21 for gold or 1.2% while silver climbed $.80 or 2.5% on the day.  Oil surged in anticipation of upcoming Chinese GDP figures which investors are expecting to come in better than expected.  The commodity gained $1.09 on the day closing at $103.65 a barrel.  This expectation of a strong CNY GDP figure has been an obvious boost to AUD and NZD.  There is an enormous amount of economic announcements tomorrow across CNY, GBP, EUR, and USD so expect the markets to be quite volatile to end the week.
AUDUSD – Flew Past Dynamic Resistance
After spending the last 1.5months below the 20ema and dynamic resistance, the Aussie had its strongest upclose for the last 4months and 2nd strongest for the entire year, gaining 143pips today.  The pair was fueled by the incredibly strong employment numbers for the AUD which were almost 8x larger than anticipated.  The pair jumped almost instantly on the news and never left its foot off the gas closing 10pips off its highs for the day communicating traders did not take profits into the close and expect the move to continue.
Intraday traders will have to be watchful of the CNY GDP numbers coming out today as the AUD and NZD have been heavily sensitive to figures coming out of the neighbor which they are so heavily dependent upon exporting large amounts to their regional Asian friends.  A weaker than expected number could send the pairs tumbling while an expected or stronger than expected will likely continue the pairs gains.
We like waiting for an intraday pullback to the daily 20ema at 1.0398 and intraday support at 1.0354 buying in dips instead of playing the break at this point since it was such a large break.  Look for intraday price action triggers at those levels for buying opportunities.  But remember a bearish print for the CNY figures could easily see this pair tumbling to 1.0334 in a hurry before buyers consider getting back in.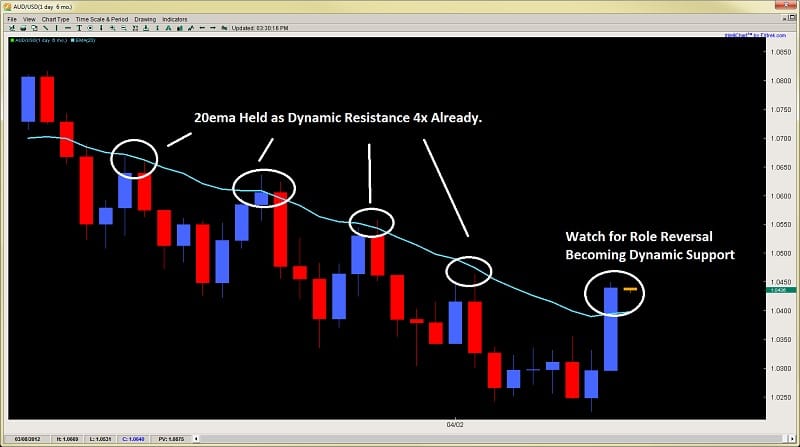 For those of you wanting to learn rule based price action systems, access to the traders forum, lifetime membership and more, feel free to check out my Forex Price Action Course.
Upcoming Economic Announcements:
| | | |
| --- | --- | --- |
| CNY Real GDP YTD (YoY) | 02.00GMT | 22.00EST |
| CNY Real GDP (QoQ) | 02.00GMT | 22.00EST |
| CNY Real GDP (YoY) | 02.00GMT | 22.00EST |
| CNY Industrial Production YTD (YoY) | 02.00GMT | 22.00EST |
| CNY Retail Sales YTD (YoY) | 02.00GMT | 22.00EST |
| EUR German Consumer Price Index (YoY) | 06.00GMT | 02.00EST |
| GBP Producer Price Index Output n.s.a. (YoY) | 08.30GMT | 04.30EST |
| USD Consumer Price Index (YoY) | 12.30GMT | 08.30EST |
| USD U. of Michigan Confidence | 13.55GMT | 09.55EST |
Want More? My private members get all my trade ideas & market commentary up to 3x per week. Click here to become a member.
Want to Learn Price Action Strategies for Trading Forex?
Sign Up for our Monthly Newsletter and Get our FREE E-Book