Forex Price Action Setups – EUR/USD Pin Bar Setup – June 12th
EURUSD
The Euro formed a pin bar rejection off the daily 20ema and dynamic resistance, also lining up with a key level at 1.2663 which was a former pivot point swing low and now formed resistance.  Price action traders can watch for intraday moves up to 1.2623 and 1.2663 for fading any rallies targeting the big figure at 1.2500.  If price breaks and closes above these highs, then expect a move up to 1.2815 before bears step back in, but we prefer selling rallies to rejoin the trend.  Intraday bulls can consider short term plays around 1.2450 targeting 1.2569.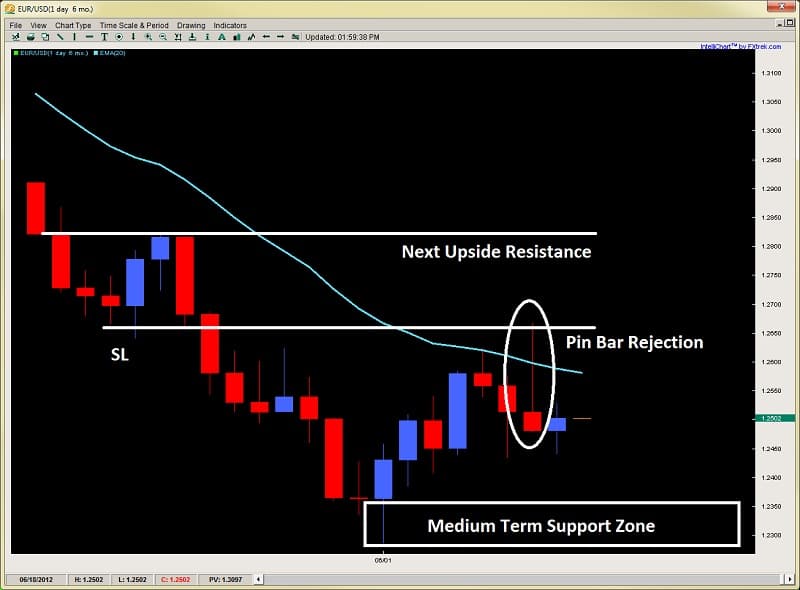 For those wanting to learn how to trade price action, get access to the traders forum, lifetime membership & more, visit my forex price action course page here.
Global Market Commentary:
While global market stocks rose in Europe and the US, the subject still remains Europe with eyes tightly fixed on Greece and Spain which are more like the first dominos in a long line possibly knocking all the rest down.  Spanish yields hit almost record EZ highs which is global investors communicating the bank bailout failed and upcoming uncertainty in Greek elections is front and center on investors minds.
Lagging concerns remain about the structure of the bailout and the June 17th elections counting down in 4.5 days from now could be the match that lights the fire.  This lends itself towards shorter term trading and being willing to go either way in a moments notice as so many of the moves here are political.
The Dow gained 162pts or 1.31% with Gold being a big winner gaining over $14 on the day closing just above $1610 as the shiny metal continues to be underpinned which we expect to continue as the BOJ talks about monetary easing are growing, which only lends itself to Gold prices rising.
Upcoming Economic Announcements:
| | | |
| --- | --- | --- |
| EUR German Consumer Price Index (YoY) | 06.00GMT | 02.00EST |
| EUR Euro-Zone Industrial Production w.d.a. (YoY) | 09.00GMT | 05.00EST |
| USD Advance Retail Sales | 12.30GMT | 08.30EST |
| USD Producer Price Index Ex Food & Energy (YoY) | 12.30GMT | 08.30EST |
| NZD Reserve Bank of New Zealand Rate Decision | 21.00GMT | 17.00EST |
Make sure to check out my newest forex article on The Best Support & Resistance Levels.
Want More? My private members get all my trade ideas & market commentary up to 3x per week. Click here to become a member.
Want to Learn Price Action Strategies for Trading Forex?
Sign Up for our Monthly Newsletter and Get our FREE E-Book