Forex Price Action Setups Euro Rebounds From Pin Bar Setup May 21st
Euro Rebounds from Oversold Status, Re-Positioning
After a well needed bounce from the price action exhaustion we had noted earlier last week, the Euro bounced ahead of the EU summit this weds.  Although there was political posturing saying 'we need Greece in the EZ', one has to ask the question of regarding the upcoming Greek elections on Jun. 16th:
Why wouldn't all the greeks just withdraw all their Euros 1 day prior to the election?  Why would they risk it?
This would obviously lead to a bank run and losses across the board once the Greek banks default.  Food for thought.
The bottom line in all this is the Euro is vulnerable to any bad news out of the EZ and this bounce was more from re-positioning and the price action being exhausted. Any lack of consensus out of the EU summit on weds will only put additional pressure on the regional currency but we will look to fade any rallies in the EUR vs. USD and JPY.
EURUSD – Pin Bar Bounce, But How Far?
After getting close to the yearly lows last friday, at the very end of the day, the EURUSD shot up very aggressively to end the day positive with a solid close.  We suspect this was a combination of the market being heavily oversold from selling off 13 of 14 days, but also possibly some predatory stop hunting with the market being massively short and having a very illiquid market to work with on Friday, thus making it an ideal day for a stop run.  In doing so, the market formed a bullish pin bar strategy just shy of the 2012 lows, then rallied to close above the 20ema for the first time since May 1st.
What was interesting is how the market then treated the 20ema as support and not resistance showing a role reversal.  Since then, the market has bounced a bit so short term the bulls are in control.   However, even though there was a strong density of buy orders from 1.2640 – 1.2750, we are suspecting any significant bounce to fade just north into the 1.2860 – 1.2900 sell zone.  We simply feel the Euro is just too vulnerable from all sides and the market will be happy to sell any rallies, especially if any more bad news comes out.  We will look to sell rallies into the 1.2860-1.2900 sell zone mentioned earlier so watch for price action triggers here.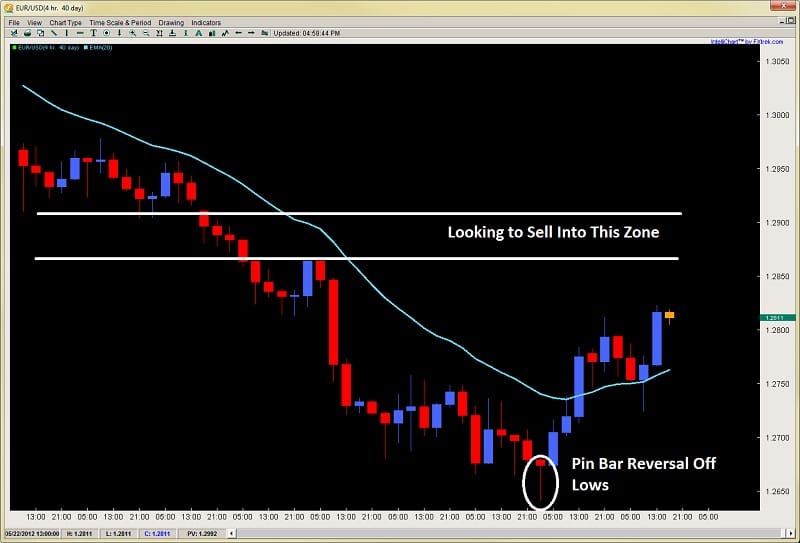 For those wanting to learn rule based price action systems, access to the traders forum, lifetime membership & more, check out my Forex Price Action Course.
Upcoming Economic Announcements:
| | | |
| --- | --- | --- |
| NZD Reserve Bank of New Zealand 2-Year Inflation Expectation | 03.00GMT | 23.00EST |
| GBP Consumer Price Index (YoY) | 08.30GMT | 04.30EST |
| GBP Public Sector Net Borrowing (Pounds) | 08.30GMT | 04.30EST |
| EUR EC OECD Economic Outlook (Table) | 09.00GMT | 05.00EST |
| EUR Euro-Zone Consumer Confidence | 14.00GMT | 10.00EST |
| USD Existing Home Sales | 14.00GMT | 10.00EST |
Make sure to check out my new forex video on Price Action Forex Trading – Counter Trend Price Action Setups
Want More? My private members get all my trade ideas & market commentary up to 3x per week. Click here to become a member.
Want to Learn Price Action Strategies for Trading Forex?
Sign Up for our Monthly Newsletter and Get our FREE E-Book