Forex Price Action Setups EUR & GBP Slide on Spanish & Greek Downgrades May 17th
Spanish Banks & Greece Downgraded, EUR & GBP Slide
Have you heard this before – Spanish banks having problems, worries over Greece paying its debt and disappointing US economic data.  Yep, nothing new, except that 16 Spanish banks have been downgraded which only makes the situation worse for Spain and the EZ.  Bankia (remember the one that got nationalized by the Bank of Spain, even though they said it was solvent)?  Turns out in the last 2-3 days, clients have withdrawn €1.3B in deposits.
That about parallels what has been happening in Greece the last few days.  The problem with bank runs is (ironically like Spanish Bull runs) once they start, they do not stop.  If Bankia goes, expect further panic and selling across the board while the USD gains.
Speaking of the EUR, it is at the yearly lows and the price action is looking set to break the 1.2630 either tomorrow or early next week.  Meanwhile, the EURJPY is close to breaking the 100 figure which is its lowest level since early Feb.
In other markets, the DOW lost 156pts or 1.24%, the S&P 19pts or 1.51% while Gold surged $38 likely because investors recognizing the bad Philly Fed print = QE3.
GBPUSD – Forms Inside Bar Trading Strategy
Taking a beating more so then its neighbor the Euro, the GBPUSD has sold off 15 of the last 17 4hr candles (60 of the last 68hrs) while forming a brief consolidation at the support level of 1.5900 just recently.  Today, after a brief pause at the round number of 1.5800, the pair formed an inside bar strategy which has now broken lower.   If the pair can break below 1.5768 (resistance 3x back in Dec. 2011 and support 1x in Mar. 2012) by the early London trading, the pair could easily fall to 1.5687 to close out the week as it has been the worst performer against the USD over the last 3 days.  I will look to sell any rallies up to 1.5900 should this price action inside bar setup not continue lower.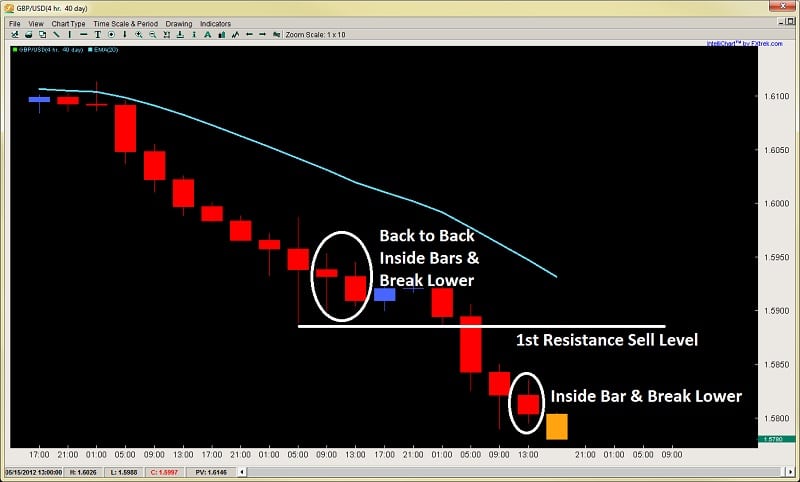 For those wanting to learn rule based price action systems, access to the traders forum, lifetime membership & more, check out my Forex Price Action Course.
Upcoming Economic Announcements:
| | | |
| --- | --- | --- |
| CNY China April Property Prices | 01.30GMT | 21.30EST |
| EUR German Producer Prices (YoY) | 06.00GMT | 02.00EST |
| CAD Consumer Price Index (YoY) | 12.30GMT | 08.30EST |
Make sure to check out my newest article on Do You Have the Willpower to Trade Forex Successfully?
Want More? My private members get all my trade ideas & market commentary up to 3x per week. Click here to become a member.
Want to Learn Price Action Strategies for Trading Forex?
Sign Up for our Monthly Newsletter and Get our FREE E-Book