EURUSD Trade Update, Crude Oil Bullish After the Breakout | May 21st
EURUSD – Had a Feeling…
As mentioned in the members commentary yesterday, we didn't like the way the EURUSD price action was behaving, so we exited for a tiny tiny profit. Turns out it was the right call as our stops would have been triggered. For those thinking this is some mere chicanery on my part, below is a screenshot from the actual trade post in our members commentary at 10.37pm GMT May 20th, whereby I talk about scratching the trade because the price action wasn't behaving the way I wanted it to.
Moving on, today the pair formed a long tailed pin bar signal + false break, which is still teasing a bit.
I'm going to stand aside on this one for now and let the price action develop around these levels before considering a long. It's still in a bear flag/consolidation at the lower end of the range, so until I see more bullish bias, I'll hold off for now as I don't believe in sitting in trades for 5 days in the negative for most of the time with no real upside shown.
Our Trade Idea: Standing aside waiting for more to develop.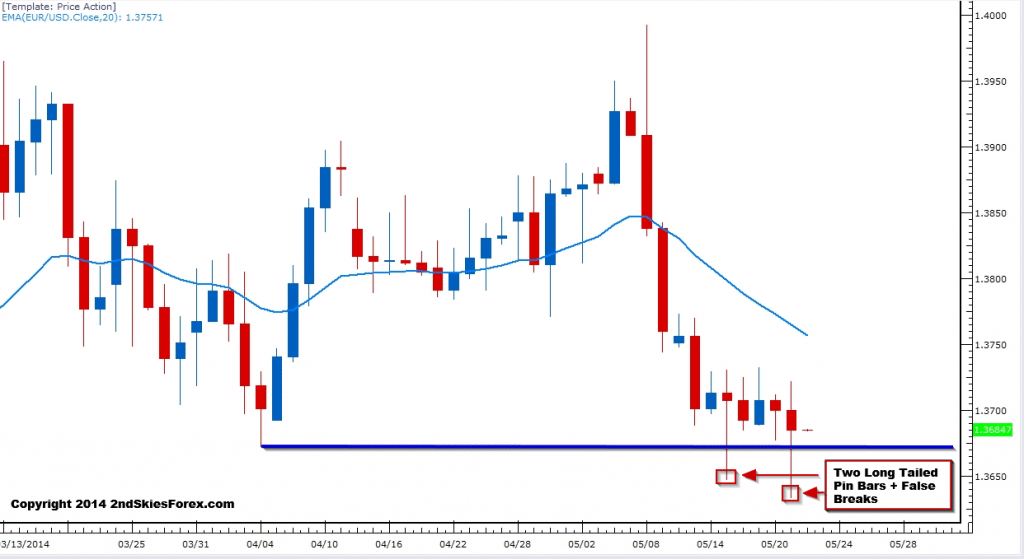 Crude Oil – Climbs Higher, Still Bullish Bias
In our daily market commentary yesterday, we suggested WTI crude oil was likely to push higher breaking above the key resistance at 103 and testing 104.50. The commodity did just that, clearing 103 easily and coming just shy of 104.50. The bias is still bullish after the breakout, and a test of 104.50 seems on the cards, but it's too high to buy now.
Our Trade Idea: Will wait for a pullback into the 103-102.50 area to get long. If the pullback is corrective, I'll enter in that range, but if it's impulsive, then I'll wait for the price action context to demonstrate more confluence, or signs on the intra-day charts (1hr and below) of buyers coming in before getting long.
Read our latest article Don't Trade Forex Unless You Do These 4 Things
Want More? My private members get all my trade ideas & market commentary up to 3x per week. Click here to become a member.
Want to Learn Price Action Strategies for Trading Forex?
Sign Up for our Monthly Newsletter and Get our FREE E-Book