EURUSD Price Action – Bearish Momentum Continues | Mar 10
Just Released: Our Advanced Traders Mindset Course is out, filling 200+ seats already. Learn to re-wire your brain for successful trading. Click here to learn more.
EURUSD – < 1.07 = Bearish (4hr chart)
Declining for 24hrs (6 x 4hr candles), the Euro lost another handle today, two actually, knocking off 1.08 and 1.07 on the list down to parity. This means we have to lower our pullback levels to get short (at least for now in the absence of any volatile pullback/trend change).
The key pullback resistance levels for me are 1.0825 and 1.0985/1.10. Only until we get a daily close above the latter would this change my bearish bias ST & MT. Downside targets are 1.0530/50 and potentially a return to parity, but I suspect a decent bounce would happen before we touch parity. Regardless, I think parity is likely this year.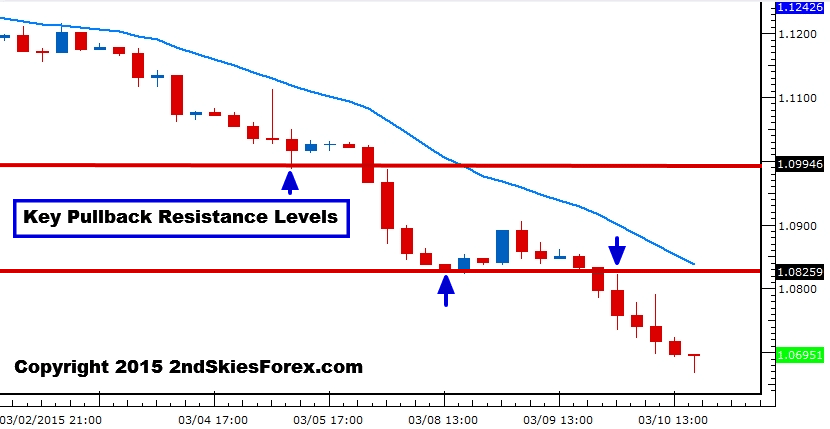 Read my latest article The Three Parts of Your Trading Mind
Want More? My private members get all my trade ideas & market commentary up to 3x per week. Click here to become a member.
Want to Learn Price Action Strategies for Trading Forex?
Sign Up for our Monthly Newsletter and Get our FREE E-Book