AUDUSD Touches Key Support Zone. Exhaustion Selling? | Dec. 17th
AUDUSD – hits major support zone
In our weekly market commentary, we talked about how the AUDUSD was showing signs of exhaustion selling price action heading into a major support zone which are the yearly lows parked at 8897 and 8842. We suggested shots would likely cover ahead of this level, and to take a small long in this support zone. Today the pair touched a low of 8881 just below the top of this support zone and has since bounced a little bit.
As you can see in the 1hr intra-day chart below, the pair formed a corrective-consolidation phase, and then broke out to the downside, only to go nowhere, and bounce. One has to ask, if the sellers are in control, where did they go and why was there no follow through? Inquiring minds want to know.
But if the pair can close back above into the consolidation range on a 1hr or 4hr basis, then I suspect some bears will take their foot off the gas and some profits, which would likely create a bounce in the pair. Bulls can watch for this 1hr/4hr close into the range, with a first target being 8990, and a second target being 9050.
*NOTE: The FOMC Meeting is tomorrow, so make sure to manage your short term trades ahead of this, while protecting your longer term trades through the meeting.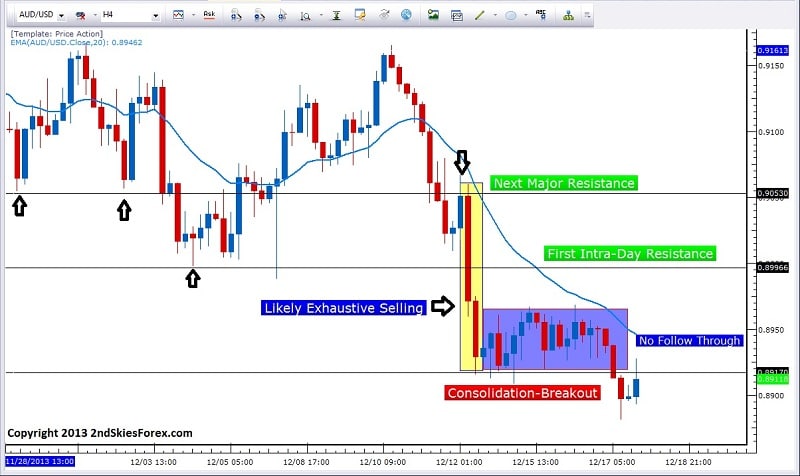 Don't miss our newest article 5 Tips For Building A Successful Mindset
Want More? My private members get all my trade ideas & market commentary up to 3x per week. Click here to become a member.
Want to Learn Price Action Strategies for Trading Forex?
Sign Up for our Monthly Newsletter and Get our FREE E-Book