Following a successful IPO and strong rally in 2014, investors quickly abandoned GoPro (NASDAQ: GPRO) which led to a -98% collapse in the stock in the years that followed.
Since the outbreak of the pandemic however, headwinds seem to finally be turning into tailwinds for the company.
The main driver behind this transition is the restructuring process of the company, shifting more towards an e-commerce and subscription based model. This shift is now starting to bear fruits, which lead to an impressive 86% YoY increase in revenue in Q2 (Source: GoPro).
In terms of the new subscription models, GoPro has launched two new services.
The main service, which is priced at $50/year includes a camera insurance, up to 50% discount on products sold via the company's website and unlimited cloud storage (you can never get enough storage, can you?).
The other subscription service is a photo editing app called Quik priced at $10/year.
From a cost vs value perspective, a solid bang for the buck if you ask me and customers seem to agree as the # of active subscribers in Q2 this year exceeded 1 million for the first time (up 211% YoY). The company expects to surpass 1.7 million subscribers by the end of the year which if realized would be impressive to say the least and should leave a positive imprint both in terms of revenue and stock price.
Overall, it seems the company is pulling all the right strings with both quarterly earnings reports and the stock agreeing. If the company manages to further build upon this transition, we think that at the right price, this stock is a solid candidate for investors looking for growth-investment opportunities.
Technical Analysis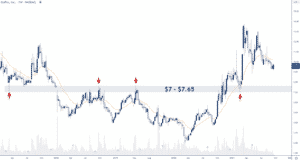 The failed breakout lower in March 2020 attracted a strong amount of bullish interest, leading to a transition in the price action from bearish to bullish.
Then in November last year, bulls successfully cleared the key resistance between $7-$7.65 which then acted as support for a 95% rip higher.
Following this strong bull run, the stock has been slowly pulling back towards this support again with price action suggesting there's more downside to come short-term.
If we can make it back all the way to the key support, we think that the $7-$7.65 price range is a good buy zone for this stock.
Option Positioning
GPRO is a low key stock in terms of options volume with only 86K calls and 48K puts, so 'light' in terms of options volume.
But we do see some option support around $9, and the lower we go, the more likely support comes in.
FULL DISCLOSURE: Chris Capre currently has no stock or option position in GPRO. If you'd like to learn more about Chris's trades and positions, you can get access via the Trading Masterclass where he shares his live trades, further investment ideas and daily market analysis.