The year 2020 has been very fruitful for Spire Inc. (NYSE: SR) and its shareholders on the charts. There has been a 17% rise in the stock since the turn of the year, better than the S&P 500's drop of 6% in the same period.
Source: Naveen Kumar
However, the SR stock faces a test on the technical chart as it tries to overcome a critical level that prevents it from continuing its bullish run.
Will the technical forces prevail against it, or will the bulls prove to be as strong as they've been all year?
And ultimately, should you buy SR stock now?
Support and Resistance
Two main levels stand out on the SR stock. The first is the $74.2 – $76.6 resistance level, which the price is closest to, and the second is the $53 – $55.3 support level.
Also, there is a critical support trendline on the SR stock chart. It has its origin in May 2009. Thanks to this support trendline, we can say the SR stock is bullish, despite its largely sideways movement since 2016.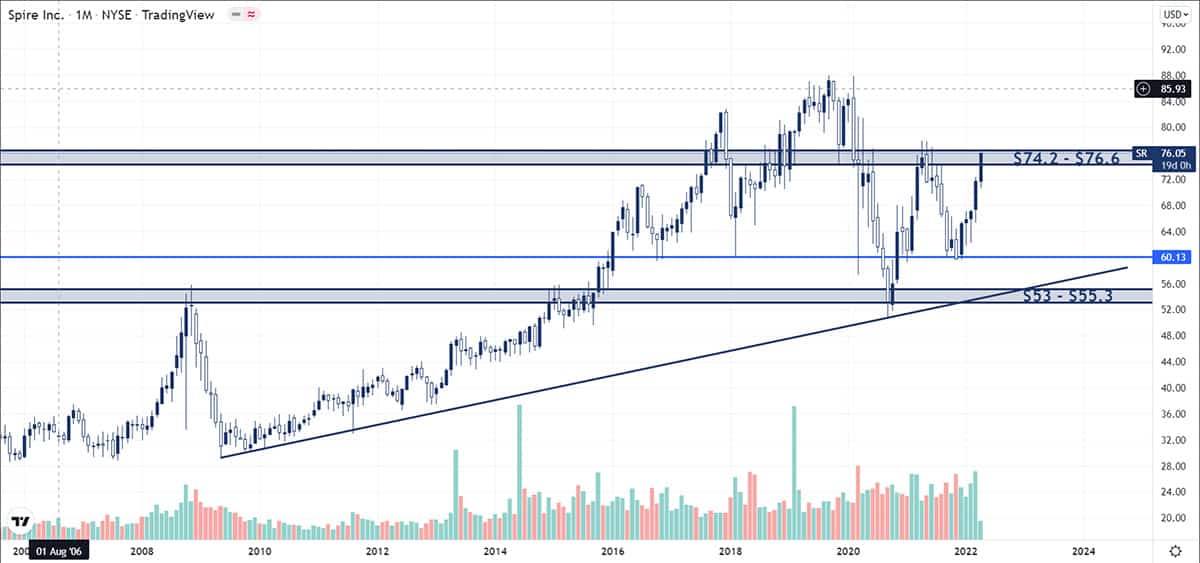 That sideways movement was necessary, though, as the price was long overdue for a pullback after rising by over 180% in a decade to its all-time high of $88.
However, a breakout of the resistance level would be a strong bullish statement for the stock.
Signals and Forecasts
Being just below the $74.2 – $76.6 resistance level, there's the chance that the price will pull back by 20% from its current price to the $60 support level or even lower to $53 – $55.3.
There's also the chance that the price will break out of the resistance level. But if the second scenario plays out, there are critical levels at the $80 and $87 marks where the price must cross before soaring into all-time highs.
Should You Buy SR Stock Now?
With the stock price is at $76 and below the $74.2 – $76.6 resistance level, now is not the best time to buy the SR stock. Although the bulls have been quite aggressive on the stock on its way to the resistance level, we still need to wait and see how the price reacts here.
So, for now, we recommend you hold SR stock.
If the bullish run continues, a great place to buy the SR stock would be when the price breaks out of the resistance level and retests it.
However, if the stock returns to the support level at $60 or $53 – $55.3, another opportunity for buyers may present itself. But whether to buy or not depends on the market condition surrounding the pullback.