Shopify Inc. (NYSE: SHOP) joins the list of companies that have announced a stock split this year. Other companies on this list are Tesla, Alphabet, and Amazon.
Shopify's proposal is a 10:1 stock split, and it intends to put it before the shareholders for approval.
Source: Tarun Dhiman
How will this split affect the stock? And, should you buy SHOP stock now?
What Now?
Unlike what happened with other companies that announced stock splits, Shopify stock has not reacted as we would expect from the announcement. The announced stock splits of Amazon, Alphabet, and Tesla invoked an immediate upside of at least 6% for each stock. On the other hand, Shopify has barely moved from its opening price today.
However, the possibility of a rise may not be entirely off the table, as data from the Bank of America shows ‌stocks ‌often rise by an average of 25% in the first 12 months after announcing a split.
This indifference showed in the stock price may have resulted from the market's skepticism concerning the proposed governance change that accompanies the split.
According to the plan, Tobias "Tobi" Lütke, the CEO of Shopify, will be offered a founder's share, which would give him 40% voting power in the company's decisions when added to his class B shares. This founder's share is not transferable, though, but will be simply erased if Tobi leaves office.
Regardless, it will be interesting to see how the shareholders vote.
Shopify's Business Performance
Shopify remains a favorite among many merchants who want to take their businesses online. According to its Q4 FY 2021 report, its subscription solutions revenue grew by 26% year-on-year to $351.2 million, thanks to more merchants joining its platform. Shopify's Merchant Solutions revenue also rose by 47% year-on-year to $1 billion.
Source: Shopify
The company also saw growths in metrics, such as Gross Payments Volume and Merchant Cash Advances and Loans, that signified more use of Shopify products in the same quarter.
Overall, the company isn't in a bad place and is worth considering as a viable long-term stock.
Technical Analysis
Like many other stocks in its industry, SHOP stock has also suffered from the stock sell-off of late last year. The interest rate hikes have also not helped matters. As a result, the stock is 64% short of its all-time high of $1764.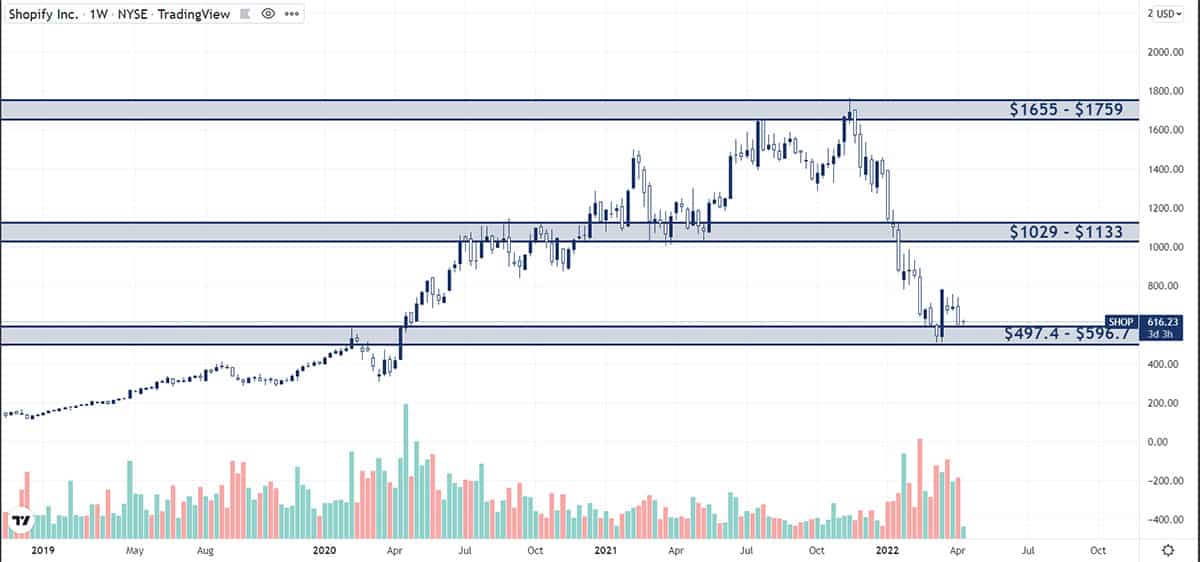 Its current price level brings it to the $497.4 – $596.7 support level. If the stock split announcement will affect the stock, it better start now because a breakout of this support level could sentence the stock to further deep falls.