After getting to a poor start to 2022, the maker of athletic comfort wears, Lululemon Athletica Inc. (Nasdaq: LULU), made a rebound to its highest level all year long. This surge resulted from the company's positive financial results in its latest quarterly reports.
Source: Scott Webb
Is it now time to get in on the stock?
Lululemon recorded some of its highest sales growth during the pandemic, with many people rushing its comfortable athletic apparel. Among its best-selling items was the female yoga pants. But since the world resumed from covid-imposed restrictions, the company hasn't quite reached those heights.
However, with the latest Q4 FY 21 report released on the 29th of March, Lulu looks to be on the path to full recovery.
Lululemon recorded a 23% year-on-year increase in total net revenue to $2.1 billion. Diluted earnings per share also beat consensus analysts' estimate of $3.27 by $0.1. These results were strong enough to drive the stock to a 21% rise.
Lululemon might have managed to gain relevance in the athletic apparel retail space. Still, it would need innovation to lock in on growth opportunities to maintain its position as one of the most prominent retailers in the space. The company is doing just that with its women's footwear line, released in early March.
Lululemon said it targeted women first because it saw a problem in how most performance shoes were first made for men before being adapted for women. And according to the management, this idea has immediately been taken with vigor among customers.
Technical Analysis
LULU bounced right off the $276 – $289 support level and has made its way to the $378 – $392 resistance level.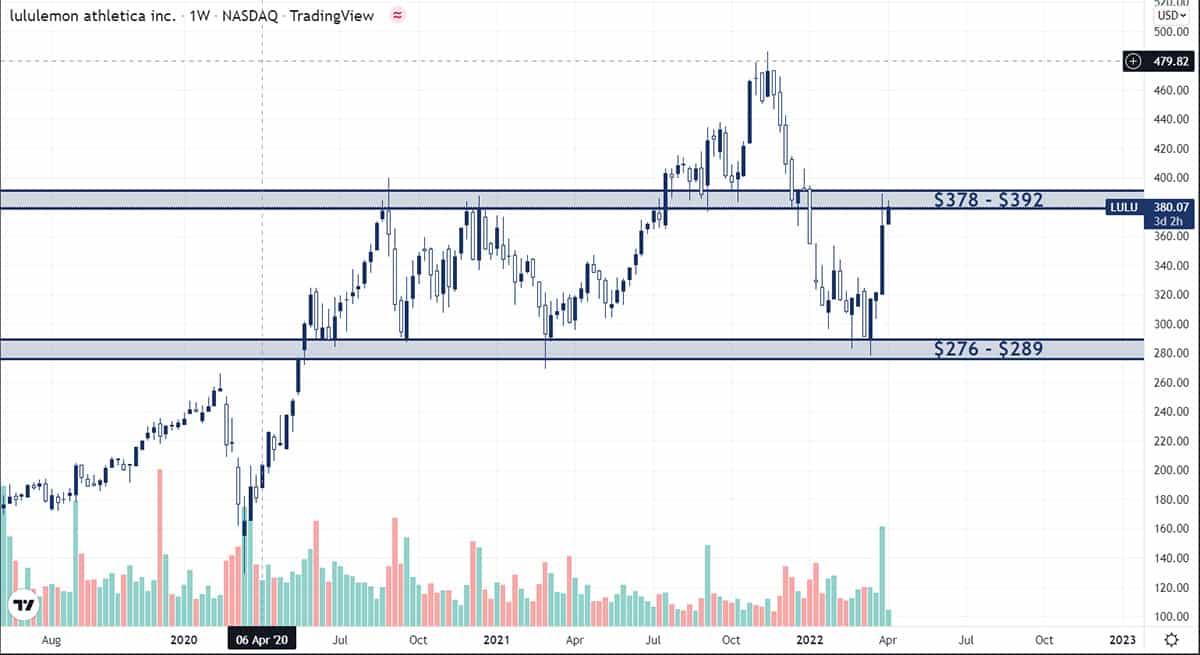 If the price breaks out of the resistance, a reign of the bulls would be officially ushered in. Otherwise, the price could return to the support and bounce between the two levels until a breakout.
Alternatively, there could be a breakdown of the $276 – $289 support level if the LULU stock price returns. This scenario, however, is the least likely, since this support level has remained sturdy and unbroken on five occasions since 2020.
We recommend waiting for the stock to complete a breakout and retest of the $378 – $392 resistance level for traders looking for the best position to buy. Alternatively, you could also buy at the $276 – $289 support if the price returns to the level.