Square (NYSE: SQ) is growing at lightning speed and shows little to no signs of slowing down.
The company started out solving a problem in 2009 by introducing a mobile card reader, allowing merchants to use their smartphone to accept payments, which turned into a massive success.
The business has since expanded into other segments such as e-commerce solutions helping merchants to create online stores. The application has seen strong adoption since launch and is used by nearly 4.5 million customers today, three times as much compared to 1 year ago.
On August 2nd, Square also announced that they'll acquire the Australian company Afterpay for $29 billion, a monster deal that allows Square to expand into the increasingly popular buy-now pay-later space.
Financially, the company has been delivering impressive results in recent years as well with a Q2 YoY growth of 91% and a net income of $204M.
(source: Square)
Overall, we think that Square, with its fast-growing ecosystem of payment solutions is well-positioned to continue to grab market shares globally, making it a very attractive growth stock in the fintech sector.
Technical Analysis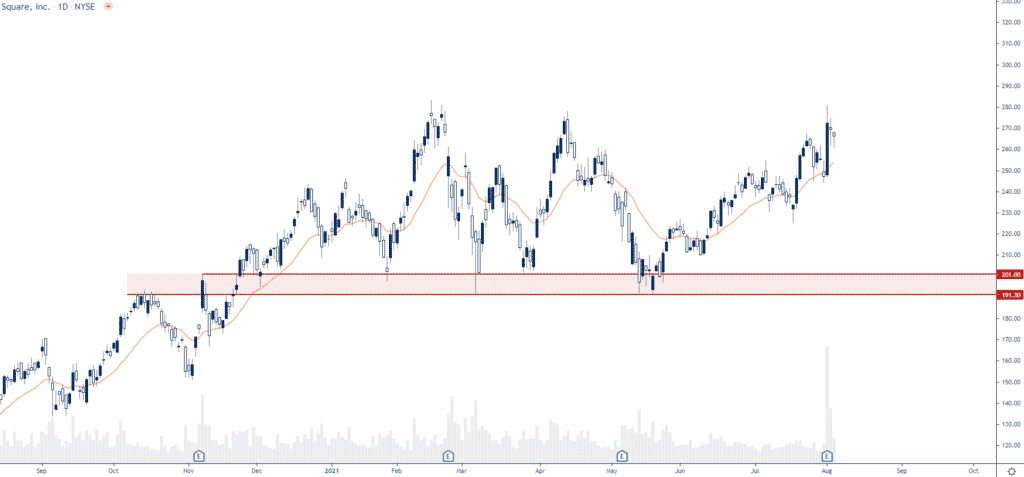 Price is currently trading inside a larger range between $191 and $283 and the recent earnings announcement has pushed price to the top of this range which also is the stock's all-time-high.
However, the buying overall looks slower, and more corrective compared to previous bullish moves from the bottom of the range. This makes us believe that there's a good probability of another move lower and re-test of the key support zone between $191-$201, which in our opinion would be a good location for longs.
Option Positioning
Currently there are about 450K calls and 500K puts, so relatively balanced with some extra puts, but we suspect some of those are cash secured puts to take advantage of the premium. Option traders are well positioning for support to come in around $240-260, so the lower end of that range becomes an interesting location to buy.
FULL DISCLOSURE: Chris Capre currently has no stock or option position in SQ, but he does have a pending limit order to buy. If you'd like to learn more about Chris's trades and positions, you can get access via the Trading Masterclass where he shares his live trades, further investment ideas and daily market analysis.