To be successful at anything, it requires work and sometimes the work you have to do to build your skillset is not entirely glamorous, sexy or fun.  For example, I am doing competitive archery, and some of my training actually has to do without shooting an actual bow, but working with an elastic band to help work on a specific technique. Sometimes, I am firing the bow, but with no target, and at...
Read More
AUDUSD – Showing Signs it Wants to Go Higher With 83+% of all hedge funds having a losing year, we think many of them are closing up shop and putting this one down on the books.  This has definitely caused liquidity to drain out of the markets and the numbers are showing up in the hourly pip range's which have contracted massively. This tends to create less trending/powerful moves...
Read More
AUDUSD – Short Term Range Dominates While liquidity is slowly being sipped out of the market heading into the holidays along with the EU summit on Dec. 9th likely holding back any major positions on the EURUSD, price action for the pairs is becoming more acquiescent and hence the lack of breakouts.  The Aussie has also fallen victim to this but there is still a trade opportunity in play as...
Read More
AUDUSD – Lines in the Sand After launching 600+pips in a matter of 3 days, the Aussie has found its lines in the sand.  The massive up-run rejected at 1.0330 (61.8% fib of 1.0750 – .9675 down-move) and pulled back to 1.0152. Since then, neither level has been broken, but the pair is forming a slight wedge towards the upside with the 50% retracement (@ 1.0208) holding the short term...
Read More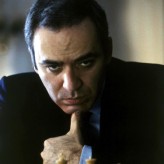 In 2009, Gary Kasparov, one of the world's greatest chess players of all time (now retired from competitive chess), played what is a called a simul game exhibition. In this exhibition, he played 25 simultaneous games against some of the top local talent all that the same time.  The opposing players had as much time as they wanted to think about their moves while Gary had only about 5...
Read More